For bookings and enquiries - call us today!!
| Specification | Details |
| --- | --- |
| Product Size In Feet (L x W x H) | 15ft X 12ft X 8ft |
| Product Size In Metres (L x W x H) | 4.6m x 3.7m x 2.5m |
| Required Space In Feet (L x W x H) | 23ft x 18ft x 8.5ft |
| Required Space In Metres (L x W x H) | 7m x 5.5m x 2.6m |
| Suitable For: | Children Only |
| User Age: | Under 9s |
| Safety Test Expiry | May 2020 |
Another repeat customer! This time, Chelsea ordered our fabulous ultimate party package with the princess theme bounce and slide bouncy castle for her party in Bourne. If you're reading this and wondering what to order to make your party the talk of the town, be sure to check out or party packages, just like Chelsea did."5 STAR! Absolutely Fantastic! Easy to book, great customer service, reliable and affordable. This is the second year we have used Funtime Bourne and we love the packages on offer. Highly recommend."
Katy's party in early February was a huge success. She had the superheroes deluxe bouncy castle in Bourne and at short notice added the didi cars for something a little different. As always, we were happy to accomodate the change of plans the party was a huge success....................... "Excellent service, even letting us use the diddy cars unplanned :) all of the children loved the castle, will definitely be back and recommending to others!"
Had a bounce castle for my daughters party. Fab.Friendly people, great service.x
Excellent Company! I only gave them an hour before the party to set up which was a tight slot but they got everything done and it was perfect. Great packages to! Thanks Helen & Steve will be using again :) x
Sarah ordered our ultimate party package with the princesses deluxe bouncy castle for her daughters birthday party in Peterborough. Sarah was so happy with the equipment she received that she's already booked us for next year too!
Book Now!
Product Description
Fantastic Jurassic Dinosaur Themed Bouncy Castle For Hire In Peterborough, Bourne, Spalding, Sleaford, Grantham And Surrounding Areas.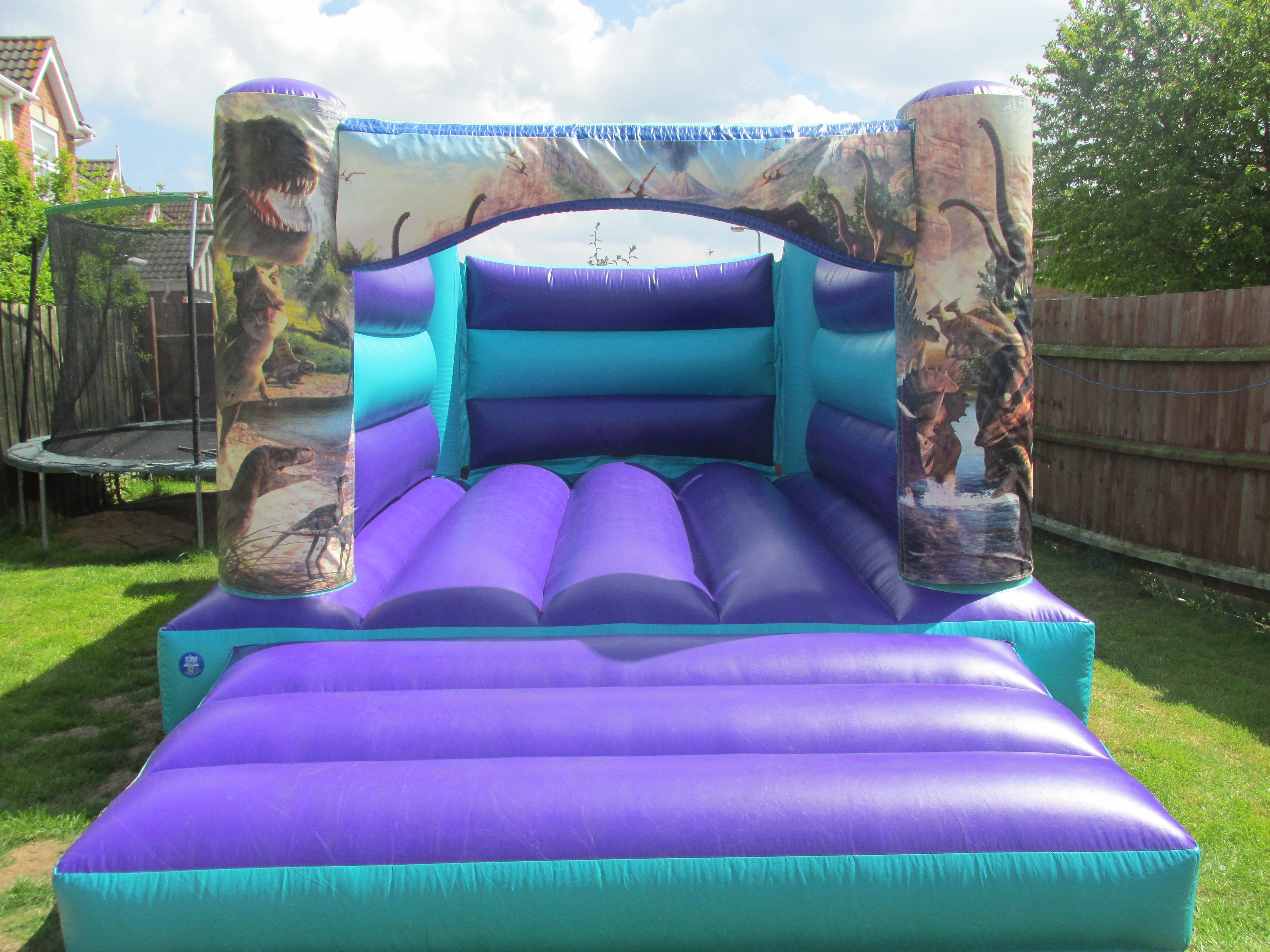 Is your little one mad about dinosaurs? If so, our beautiful, digitally printed dinosaur themed bouncy castle is the perfect choice for you. Party with all your favourite dinosaurs on this fantastic bouncy castle.


Dimensions
11ft X 15ft X 8ft
3.3m X 4.9m X 2.44m
Suitable for age 9 and under


Why not add this jurassic dinosaurs bouncy castle to one of our amazing party packages or soft play parties to make a party to remember?
For your convenience, we are now pleased to offer professionally made party bags and sweet cones from only £1 each! At that price it's surely a "no-brainer"?
Should you wish to book our fabulous jurassic dinosaurs bouncy castle, you can do so online 24/7 or:
Call us on: 01778 570394
Mobile / text: 07592 373310
Email us on: funtime.bourne@gmail.com
Like us on Facebook
Our office is open 7 days a week from 9am until 9pm, so please don't hesitate to contact us for any information you may need.