For bookings and enquiries - call us today!!
| Specification | Details |
| --- | --- |
| Product Size In Feet (L x W x H) | 15ft x 12ft x 8ft |
| Product Size In Metres (L x W x H) | 4.6m x 3.7m x 2.5m |
| Required Space In Feet (L x W x H) | 23ft x 18ft x 8.5ft |
| Required Space In Metres (L x W x H) | 7m x 5.5m x 2.6m |
| Suitable for: | Children Only |
| User Age: | Under 9s |
| Safety Test Expiry | May 2020 |
A lovely review from one of our first ever customers! Kirsty had ordered our piggy bouncy castle with soft play for her little mans party. Pleased to say Kirsty has become a regular customer at Funtime Bourne............................. "Used Fun Time today for my 3 year olds party. What can I say? Fab prices and product plus drop off and collections were at the advised times. Brilliant way to run a business"
A fab review here from Sarah. She chose our ultimate party package with the piggy bounce and slide bouncy castle and magic ball pool for her lovely childrens' parties. It fitted beautifully in Bicker village hall and the kids loved it! ................"Funtime Bouncy castle hire Bourne, Brilliant service, my little ones absolutely loved their party!"
Rachel ordered our "Big Daddy" bouncy castle for her event at Great Casterton Primary school. The school were really pleased with the bouncy castle we provided and our attention to safety aspects of the hire too and have become regular customers."Lovely people, arrived on time, with new and clean inflatables. I would recommend them !"
Supplied soft play and bouncy castle hire for first birthday party! Will definitely be using again!
Another fab review, this time from Ann Rivers. Ann booked our ultimate bouncy castle party in Bourne with the princess bouncy castle and added the candy floss cart. Again Ann thought the candy floss cart really gave her party the "wow factor".................... "Great service, very friendly. Everyone especially loved the candy floss. Definitely recommend."
Book Now!
Product Description
Colourful Peppa Pig Themed Bouncy Castle For Hire In Peterborough, Bourne, Spalding, Sleaford, Grantham And Surrounding Areas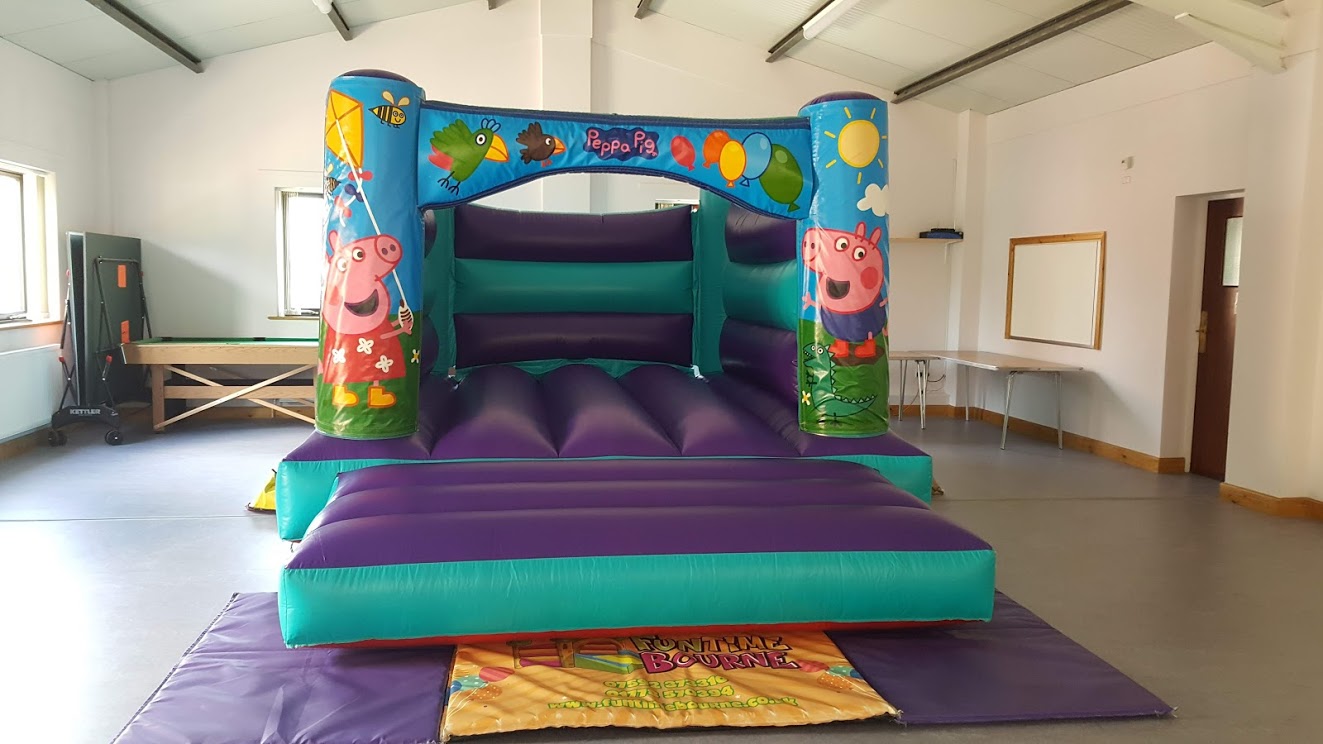 Is your little one Peppa mad? If so, our Colourful Peppa Pig Themed Bouncy Castle is the perfect choice for you. Party with Peppa, George Pig and all the rest of the gang on this bright and colourful bouncy castle.

Dimensions
11ft X 15ft X 8ft
3.3m X 4.9m X 2.44m
Suitable for age 9 and under


Why not add this Colourful Peppa Themed Bouncy Castle to one of our amazing party packages or soft play parties to make a party to remember?
For your convenience, we are now pleased to offer professionally made party bags and sweet cones from only £1 each! At that price it's surely a "no-brainer"?
Should you wish to book our Colourful Peppa Themed Bouncy Castle, you can do so online 24/7 or:
Call us on: 01778 570394
Mobile / text: 07592 373310
Email us: funtime.bourne@gmail.com
Like us on Facebook
Our office is open 7 days a week from 9am until 9pm, so please don't hesitate to contact us for any information you may need.