For bookings and enquiries - call us today!!
| Specification | Details |
| --- | --- |
| Product Size In Feet (L x W x H) | 16ft x 12ft x 10ft |
| Product Size In Metres (L x W x H) | 4.7m x 3.4m x 3.1m |
| Required Space In Feet (L x W x H) | 24ft x 18ft x 10.5ft |
| Required Space In Metres (L x W x H) | 7.4m x 5.5m x 3.2m |
| Suitable For: | Adults And Children |
| Safety Test Expiry | May 2020 |
Excellent Company! I only gave them an hour before the party to set up which was a tight slot but they got everything done and it was perfect. Great packages to! Thanks Helen & Steve will be using again :) x
Shani ordered our soft play party for her birthday party in Bourne. It went down a storm with the little (and not quite so little) ones! Bouncy castle hire in Bourne............... "We would definitely recommend these to everyone. We used them last week for our sons christening and they were excellent and brilliant. We would definitely be using them again. Thank you so much! The children had amazing time with all the soft play and the ride alongs. Xx"
Rachel was one of our first ever customers! She booked our ultimate party package with the superheroes deluxe bouncy castle and ride on didi cars. Thanks Rachel for booking with us at Funtime Bourne!........................ "Highly recommended, had them for my son's sixth birthday party. Fab bouncy castles and ride on cars, the kids all loved it. Lovely people too"
I booked the ultimate bouncy castle package for my son's 4th birthday. This is such great value, all the children had a brilliant time, it gives them alot more exciting things to do than just a standard bouncy castle. The cars were a massive hit aswell as the slide on the bouncy castle. Helen was great to deal with and really took the stress out of organising a children's party with great advise on halls and time for starting up and clearing afterwards. Would highly recommend using this company and the package deals. Thanks so much Helen!
Thankyou so much ! Service was fab , we booked the ultimate party package which is great value for money ! Kids had a blast kept the kiddies well entertained ?! Highly recommend ??
Book Now!
Product Description
Green Disco A Frame Bouncy Castle to Hire in Bourne, Spalding, Stamford, Sleaford and More!!
One of our newest bouncy castle purchases, this is our unique "disco time" bouncy castle! The theme is perfect for any childs party, young or older and a disco party theme is always a lovely, unisex options that won't clash with any other theme you may have selected for tableware etc. The digitally printed artwork on this high gloss, top of the range, British built bouncy castle really is a show stopper
What's great though, is this bouncy castle has a shower cover and solid back wall, hence it's been made for children of all ages and adults too! The shower cover is sewn into the walls meaning children can't climb between the wall and the roof and escape! What's more it'll fend off most light showers - prefect for our great British weather!
This castle is available with (£80) or without (£70) a built in sound system and disco light. Should you want the sound system and light, you can still book from this page and will be offered the sound system and disco light addition on the booking form.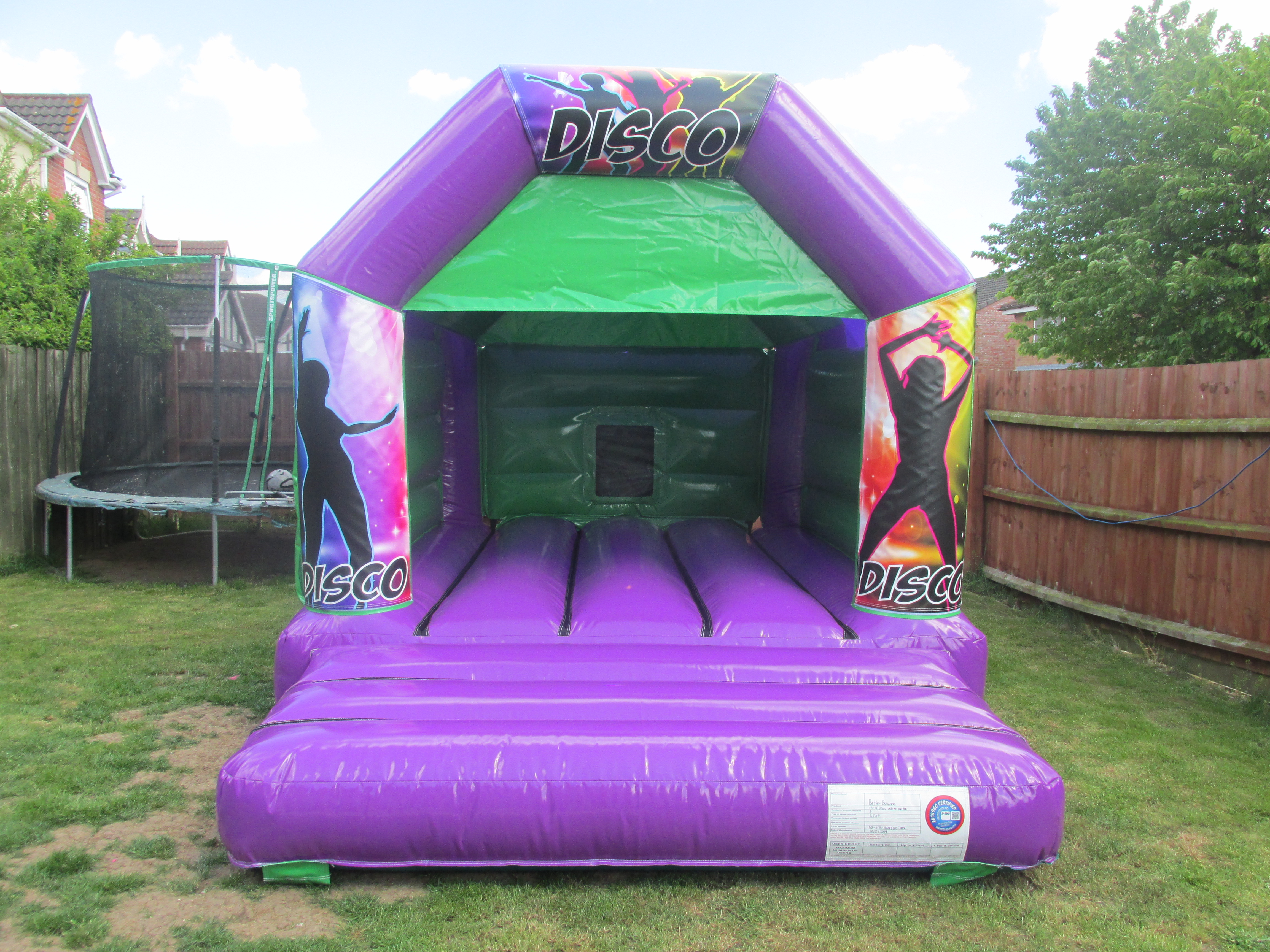 Dimensions (LWH)
16ft x 12ft x 10ft
4.7m x 3.4m x 3.1m
Suitable for ALL AGES!
Why not add this beautiful Disco Themed Bouncy Castle to one of our amazing party packages or soft play parties to make a party to remember?
For your convenience, we are now pleased to offer professionally made party bags and sweet cones from only £1 each! At that price it's surely a "no-brainer"?
Should you wish to book our Beautiful Disco Themed Bouncy Castle, you can do so online 24/7 or:
Call us on: 01778 570394
Mobile / text: 07592 373310
Email us: funtime.bourne@gmail.com
Like us on Facebook
Our office is open 7 days a week from 9am until 9pm, so please don't hesitate to contact us for any information you may need.