For bookings and enquiries - call us today!!
| Specification | Details |
| --- | --- |
| Product Size In Feet (L x W x H) | 16ft x 12ft x 10ft |
| Product Size In Metres (L x W x H) | 4.7m x 3.4m x 3.1m |
| Required Space In Feet (L x W x H) | 24ft x 18ft x 10.5ft |
| Required Space In Metres (L x W x H) | 7.4m x 5.5m x 3.2m |
| Suitable For: | Adults And Children |
| Safety Test Expiry | May 2020 |
Sam loved our soft play package when she hired it for her young son and we are pleased to say that Sam has become a regular customer, even attending our family fun days too! Thanks Sam :-)........................ "So today (3rd July) my son had his 1st birthday party, we hired some soft play from fun time. They were very friendly and everything was clean. I noticed a Boult missing on a scuttle bug.... So they took it away and fixed it then brought it straight back! Brilliant service and worth the money. I will defo hire from them again xx"
Katie hired our amazing hot tub party for her husbands birthday. They were both really pleased with what they received and thought it was fantastic value for money. We are getting more and more adult birthday and anniversary gift hires, what a great party idea!If you're looking for hot tub / spa hire in Bourne, make sure you get in touch! ............... " Can't recommend enough.. had the hot tub for the weekend.. they do everything for u!! Set up take down u don't need to lift a finger.. just enjoy.. came lovely and clean and lovely friendly people.. can't wait for next time x"
We had a bouncy castle and the under 5s soft play for our daughters first birthday, it was a massive hit and everyone loved it! Fantastic service and equipment! Would defo use them again and recommend them to anyone looking for this for a party, thankyou so much guys all the children had a fab time and slept well after having fun with your equipment
Amazing, reliable, friendly family run business. Took all the stress out of arranging a birthday party for my 7 year old- disco dome delivered and set up in plenty of time before party started. Was immaculate and Steve left the iPhone/ music playlists so all taken care of. Helen very friendly & helpful too. Would have no hesitation in recommending this company.
Beth was really pleased with her hire of the piggy bounce and slide bouncy castle. It was a garden party on a beautiful day. The children loved the entertainment and Beth loved the ease of booking and quality of our equipment. Beth has since booked more bouncy castles with us and we are really pleased to have her as a regular customer..........................."Hired a bouncy castle for my daughters birthday!Very friendlyOn timeVery helpfulEasy to talk toWill be using you again :) highly recommend xx"
Book Now!
Product Description
Green LOL Surprise A Frame Bouncy Castle to Hire in Stamford, Sleaford, Bourne, Grantham and More!!

Well, what can we say about this little beauty? One of our most popular themes at the moment, this fabulous LOL Surprise Bouncy Castle is available with or without built in sound system, and disco light. What's more, the built in roof protects your party from showers - never a bad thing with our Great British Weather! It also works as a fantastic sun shade on those rare days of unbroken sunshine!
Our lovely LOL Surprise themed bouncy castle is also suitable for both children and adults! That means if great Aunt Edna decides she's wants to re-live her youth, that's absolutely fine (give or take her artificial hip!). It's also great if you are expecting bigger children at your party - this castle will have all ages and sizes covered. And with the digitally printed artwork and high gloss finish you can't help but be impressed by this little stunner.
This castle is available with (£70) or without (£60) a built in sound system and disco light. Should you want the sound system and light, you can still book from this page and will be offered the sound system and disco light addition on the booking form.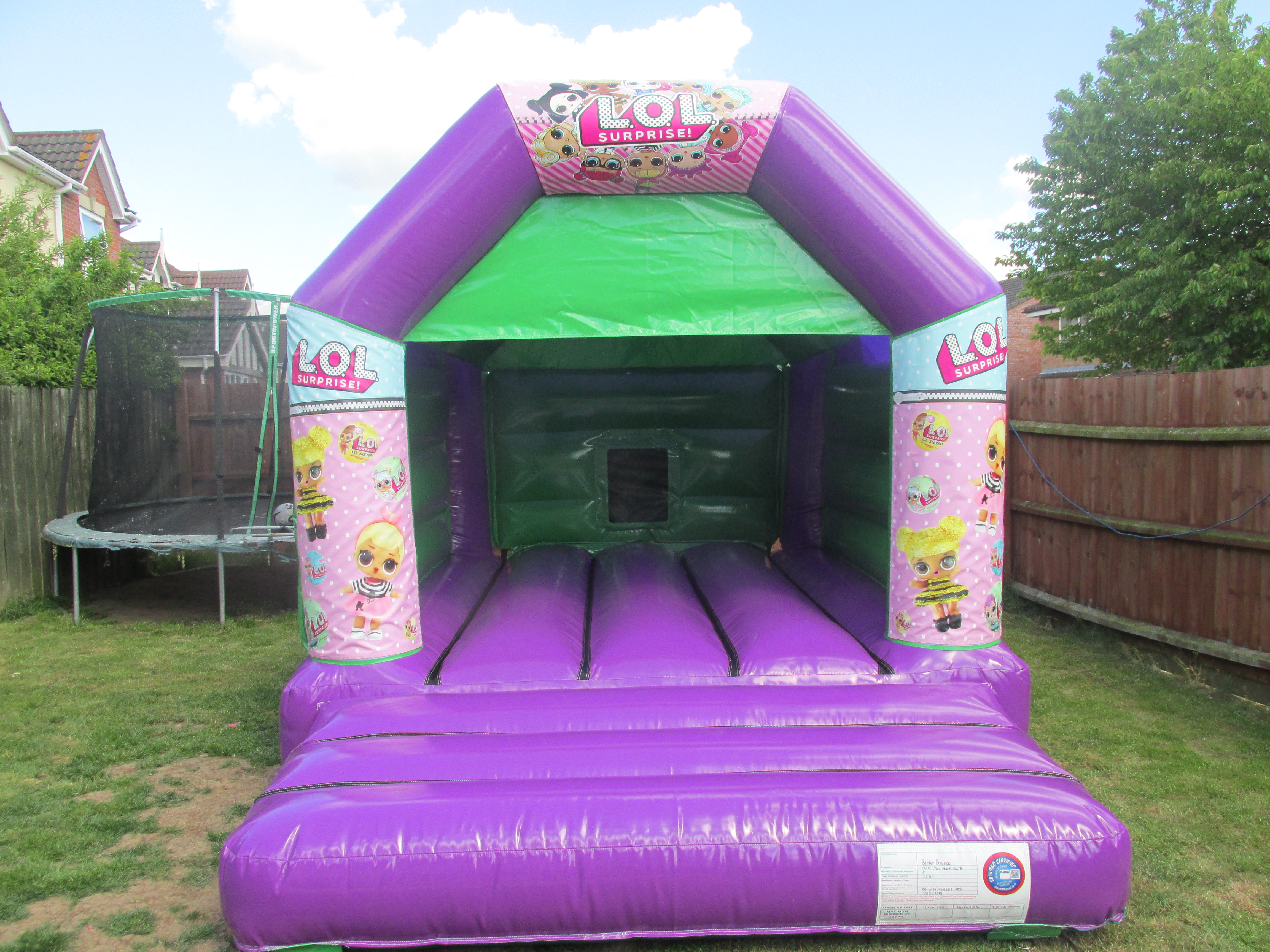 Dimensions (LWH)
16ft x 12ft x 10ft
4.7m x 3.4m x 3.1m
Suitable for ALL AGES!
Why not add this beautiful LOL Surprise Themed Bouncy Castle to one of our amazing party packages or soft play parties to make a party to remember?
For your convenience, we are now pleased to offer professionally made party bags and sweet cones from only £1 each! At that price it's surely a "no-brainer"?
Should you wish to book our Beautiful LOL Surprise Themed Bouncy Castle, you can do so online 24/7 or:
Call us on: 01778 570394
Mobile / text: 07592 373310
Email us: funtime.bourne@gmail.com
Like us on Facebook
Our office is open 7 days a week from 9am until 9pm, so please don't hesitate to contact us for any information you may need.