Bouncy Castle Hire In Spalding, Lincolnshire
Posted By: Its Funtime | Posted Date: Thursday, July 18, 2019
Bouncy Castle Hire In Spalding, Bourne, Sleaford and Throughout Lincolnshire
Here at It's Funtime we have seen a substantial increase in bookings for the Spalding area in the last few weeks so we thought we would write a blog all about our bouncy castle hires available in Spalding and the surrounding villages.
We are more than happy to supply or inflatables for any party be it a garden party or hall party and like to think we have something for every occasion. We know the Spalding area very well and could deliver to any garden locally but we are also very knowledgeable about the local halls including Pinchbeck Village Hall, Pinchbeck Church Hall, Weston Hall, Moulton hall and as you can see below also Surfleet Hall.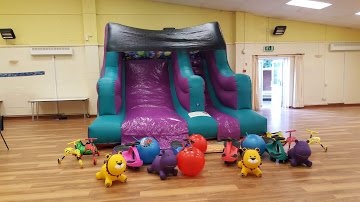 We have a fantastic range of inflatables including

inflatable slides

, disco domes,

disco bouncy castles

and much more plus soft play parties and even hot tub hires should bouncy castles "not be your thing". All we ask is that you do check your location to make sure that the items you are ordering will fit in your chosen venue. This means checking the floor plan but also the ceiling heights to ensure that any inflatable will fit. We do specialise in low height bouncy castle so should you have a hall with a low ceiling we can still probably supply a bouncy castle for you.
We are happy to deliver to Spalding itself but also the surrounding villages of Western, Moulton, Surfleet and also a little further afield in Quadring, Donington and Gosberton too. Nominal delivery charges do apply to outlying areas to if you are in one of the villages please do get in touch to see if there is a delivery charge applicable.


We have lots of corporate customers in Spalding including Bakkavor, Fowler Welch, St Johns School on Hawthorn Bank and also Spalding Parish Day School. We are very high trusted by professionals in the local area as we are more than happy to supply your insurance documentation and testing certificate so that you can have peace of mind that the inflatables you are hiring are safe and modern and fully insured. Should you wish to see the paperwork do please just ask and we can email it over to you.
The video below is in fact, a recent party that we completed in Surfleet Village Hall, as you can see it included a selection of party items including our fantastic

inflatable slide

and didi cars and we even supplied the party bags for this party. If you are looking for a stress-free experience please to take a look at our

party bags

.

we can cater for as many children as required and try to keep our prices as reasonable as possible. As you can see the inflatable slide fitted comfortably in Surfleet Village Hall and in fact any of our inflatables will fit in this fantastic hall with plenty of room to spare.


And just look at the feedback this hirer left us for this particular party.....
So if you are looking for a bouncy castle hire in Spalding or the surrounding villages please do either contact us by email or give us a ring on 07592 37310 or 01778 570 304 and will be pleased to be of assistance.