It's Funtime Bouncy Castle Hire Bourne
A True Family Business!
We don't try to hide the fact that we're a local, family run business. Some companies may try to mask this fact to make themselves appear bigger than they really are, but this really isn't our style. We are what we are and it isn't something we're ashamed of, in fact we're actually pretty darn proud of it! We believe it's what actually sets us apart for "the rest". We're big enough to cope, but small enough to care about each and every party.
We have a close network of family running our business. Helen mainly answers the phones and emails and talks with customers, does run-sheets and organises things - and man can she organise! Steve normally does the actual deliveries - loading, unloading and setting up. We often take our children (Alex and Matty) on local deliveries as quite frankly they are really quite helpful!
When you use us, you're dealing with a family with young children. The "driver" is a husband and father, and the "woman on the phone" is a mother and wife. Twice a year, we do exactly what you're doing right now..... wonder how the heck we're gonna pull off a party for the kids this year! That's why we genuinely care about your party. It's not just a "drop off at midday @ Bourne Abbey", it's "Mia's 5th birthday party" and we really know just how much she's looking forward to her Unicorn party! We honestly do care about each job.
We get excited when we get a booking and it's a huge deal when we purchase new equipment. The kids get to go on it first and first inflation is always done together. This shouldn't put you off using us, but provide you reassurance that we care and won't let you down!
We're based in our Bourne bouncy castle hire HQ, and we travel all over the region to bring bouncy fun across Lincolnshire and beyond, including:
And more.
So that's us! But just in case you're still reading and want to know more, here's some "gems of wisdom" from us all....
Steve - General Dogsbody - Driver And Party Deliverer.
I'm the one who will most likely be delivering your party. I know most venues locally and the best way to set up to maximise your available space. My favourite items are our new disco bouncy castles. We have only just taken delivery of this and as it is a "velcro bouncy castle" we can apply various themes to your bouncy castle including Pups and Peter Rabbit with lots more in the pipeline. It has a real "wow factor" when it's inflated and you get a first glimpse of the disco light and sound system featured in this castle.
Helen - Head Honcho - Bookings, Organiser and Party Deliverer.
I'm "the lady on the end of the phone" talking you through every aspect of your party and reassuring you when you're in full panic mode 24 hours before your party! What I don't know about children's parties probably isn't worth knowing, so if you have any questions, no matter how daft they may seem, please do ask, I promise not to laugh.... much!
My favourite item is actually any of our fabulous party packages. From a mums perspective, it doesn't matter how large a bouncy castle you order for your kids party, you can't safely have 30+ kids on bouncy castle at once. The party packages make childrens' parties so much safer, less stressful and more fun by spreading the load. If pushed, I'd probably go for the platinum soft play party as I really love the magic ball pool and the kiddie roller coaster and in case you're wondering, yes the kiddie coaster can in fact accommodate the larger bottom too (mine certainly fits.... just)!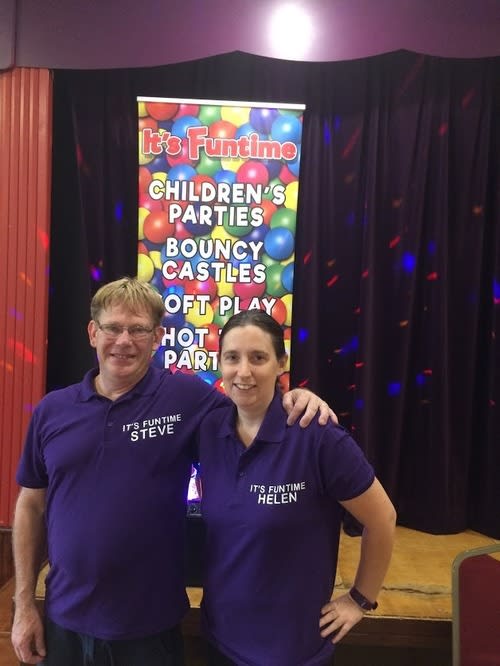 About Us