It's Funtime - The Best Bouncy Castle Hire In Peterborough.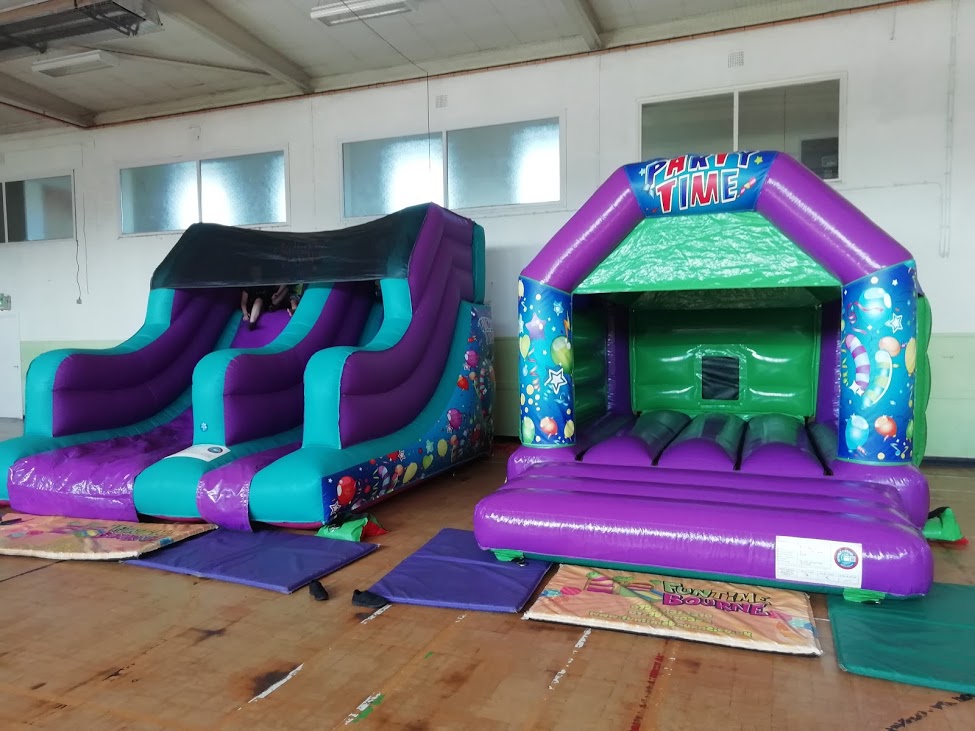 Here at It's Funtime we are extremely pleased to be able to offer a fantastic bouncy castles for hire in Peterborough and all the surrounding areas. We are very proud of our reputation locally for having the very best inflatables around, 100% safety record and best prices too! So if you're looking for bouncy castle hire from Werrington to Yaxley or Dogsthorpe to Longthorpe you need to get in touch with us today. We have a huge range of bouncy castles and inflatables available to hire in Peterborough so we'll go through a few of the different options below.
Indoor Bouncy Castle Hire Peterborough.
Yes, don't we all know it, the great British winters are cold and wet so garden parties really aren't practical option. That doesn't mean you can't have a bouncy castle party though, there are lots and lots of fantastic village halls and community centres in and around Peterborough including Nene Valley Community Centre on Oundle Road, Paston and Gunthorpe Community Centre and the Focus Centre in Dogsthorpe. All of these are really large venues that can accommodate any of our bouncy castles for hire in Peterborough or indeed any of our party packages if you have a larger party. Should you have a slightly smaller venue such as the Loxley Community Centre or Longthorpe Village Hall, we still have bouncy castles that will fit, you just need to be a little bit careful to select from our low height bouncy castle options if your ceiling is low and to double check the size of the room before booking your inflatable for your party. The really lovely thing about indoor hires is you don't need to worry about the weather, there are always plenty of power points for us to plug into and you'll get great kitchen facilities. But best of all, you have your party, you do a quick sweep up and you can go home to a house exactly how you left it. No children running around trashing your house and garden!
Outdoor Bouncy Castle Hire In Peterborough And Garden Parties.
As we head towards the Easter holidays, we do restart our outdoor bouncy castle hire service. From Easter until October half term we are more than happy to put any of our inflatables outdoors in gardens or indeed on playing fields for fetes and events. The lovely thing about outdoor bouncy castle hire is you're completely unrestricted on ceiling height however you do still need to keep an eye if you are in an enclosed garden to ensure you don't book a bouncy castle larger than your garden. I know it sounds silly but it happens a lot! The other thing to bear in mind with garden parties and outdoor bouncy castle hire in Peterborough is that they are always weather dependent. We can can put bouncy castles outdoors in good weather and if there is the odd shower forecast, that's generally not a problem for the bouncy castles however if it's torrential thunderstorms or prolonged rain it really isn't a good idea to go ahead with your outdoor bouncy castle hire. The children and more to the point the parents of the children visiting won't want to be going home soaking wet and covered in mud and the bouncy castles can get quite slippery when they get wet. The other potential issue for outdoor hires is wind. We are allowed to set up your bouncy castle as long as the correct anchoring is possible in winds up to 24 miles an hour. This does include gusts so when you look at the weather forecast you do need to take note of the gusting speed for the day. Anything over 24 miles an hour and unfortunately bouncy castles do have to be cancelled as any winds over 24 miles an hour runs the risk of accidents and nobody wants an accident at their party. If you would like an outdoor bouncy castle you just need to make sure you have sufficient grass to put the bouncy castle on and access to electricity. Unfortunately we cannot set up bouncy castles on gravel or concrete.
Inflatable Slide Hire In Peterborough
Are you looking for something a little different to the standard bouncy castle hire in Peterborough? If so why not take a look at our inflatable slide hire or our bounce and slide bouncy castles? Available for hire indoors or outside, our inflatable slide has a 7ft platform and a 10ft total height meaning it will fit in most village halls and community centres as well as outdoor spaces and gardens. It may not be the largest of slides but it has a removable slip sheet which makes it quite fast. The inflatable slide is perfect for medium to larger gardens and ideal for under eights.
Disco Bouncy Castle Hire In Peterborough.
Have you got older children looking for something a little bit more grown up? If so, take a look at our disco bouncy castle hire in Peterborough. The disco bouncy castles are a fantastic addition to any party and feature built-in sound system with Bluetooth connectivity and disco lights in the bouncy castle roof. We have everything from completely blacked out disco domes to themed disco bouncy castles and even disco bouncy castles with a slide on the front. We really do have something for everybody in our disco bouncy castle hire section.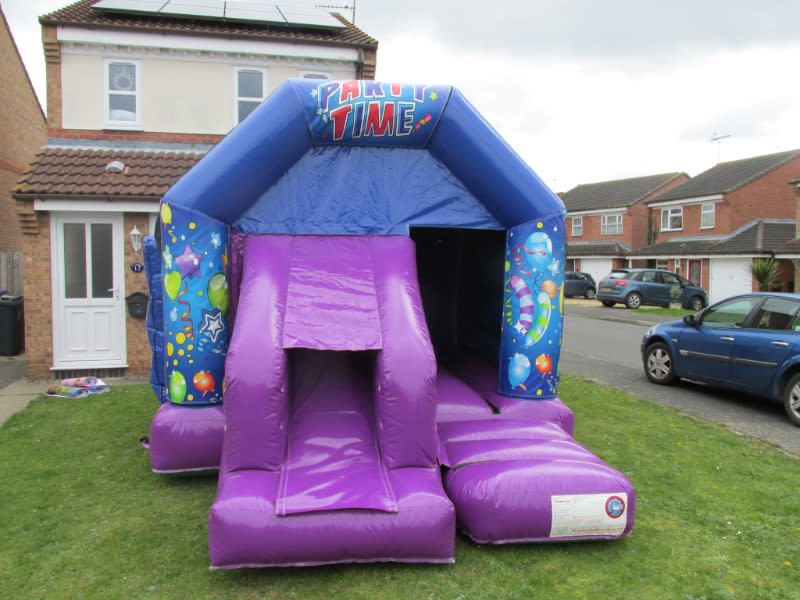 Themed Bouncy Castle Hire In Peterborough
We know these days all of your children have their favourite characters from online and the TV. That's why we have such a huge range of themes for our bouncy castles for hire in Peterborough. Some of the most popular girly themes include princesses and unicorns, where the boys tend to love computer games such as Fortnite. Got a younger child? We have a beautiful jungle themed bouncy castle available with or without the built-in sound system and disco light as well as all the characters from their favourite shows. Unicorn-themed inflatables, superhero bouncy castles and more - we've got it all.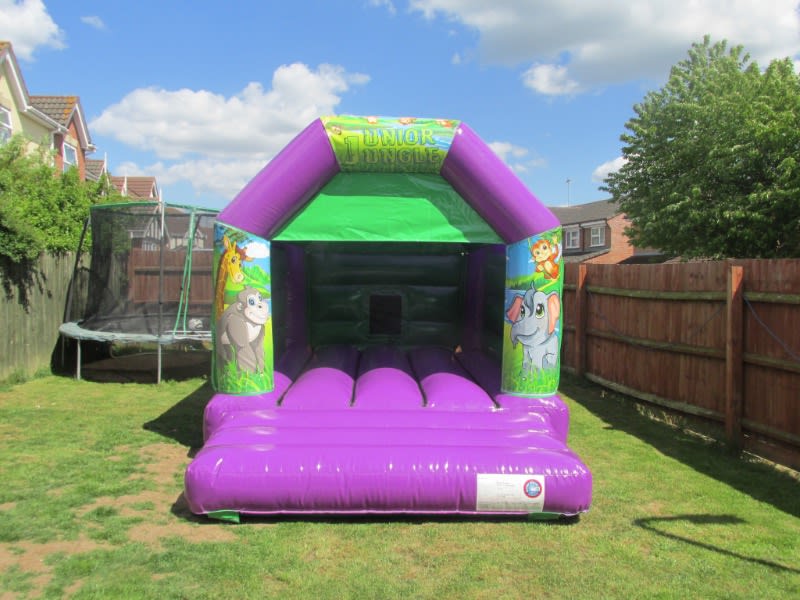 Why book with It's Funtime?
You might be wondering why you should book your next party bouncy castle hire in Peterborough through It's Funtime. The reason is because we have fantastic quality bouncy castles which we're sure you can see in the photos and we have the very best prices around. We always show up when we say we will and all of our inflatables are fully insured and independently safety tested every year. What's more, when you book with It's Funtime you can have peace of mind that you'll get nice equipment, which is the safest possible and delivered on time reducing the stress on your big day.
Should you have any further questions about our bouncy castle hire service please don't hesitate to drop us an email or give us a ring on 01778 570390 or 07592 373310.
You can also check out our contact page.