Bouncy Castle Hire In Spalding
Posted By: Its Funtime | Posted Date: Saturday, July 27, 2019
Bouncy Castle Hire In Spalding
It's Funtime are extremely pleased to be able to deliver their premium inflatable hire service to the people of Spalding. We've grown rapidly since starting in our home town of Bourne and we believe it is because we offer top quality entertainment along with outstanding customer service to all of our customers. Just take a look at our reviews!
It's Funtime have a wide range of party equipment available for hire for all sorts of occasions from children's birthday parties to school fun days, weddings and seasonal celebrations and much more.
Children's Bouncy Castle Hire
Here at It's Funtime we have some fantastic inflatables that are perfect for children's parties. Our range of kids party rental equipment is constantly growing, in fact we have just invested in another 3 castles to keep up with the ever growing demand to offer our customers more choice year after year. You can choose from all the most popular themes including

superheroes

, jungle,

party

and many more. We understand how important is that your child's special day runs as smoothly as possible and we promise to do our best to make sure everything goes to
Children's parties in Spalding are guaranteed to be spectacular when you hire any of our fabulous party equipment. We strongly recommend you look at our amazing party packages as they will keep the kids entertained for hours even if you have quite a few. It's Funtime have lots of equipment to choose from including bouncy castles, ball pools, soft play, cotton candy machines and much more.
Our aim is not just to please our customers, our aim is to amaze them!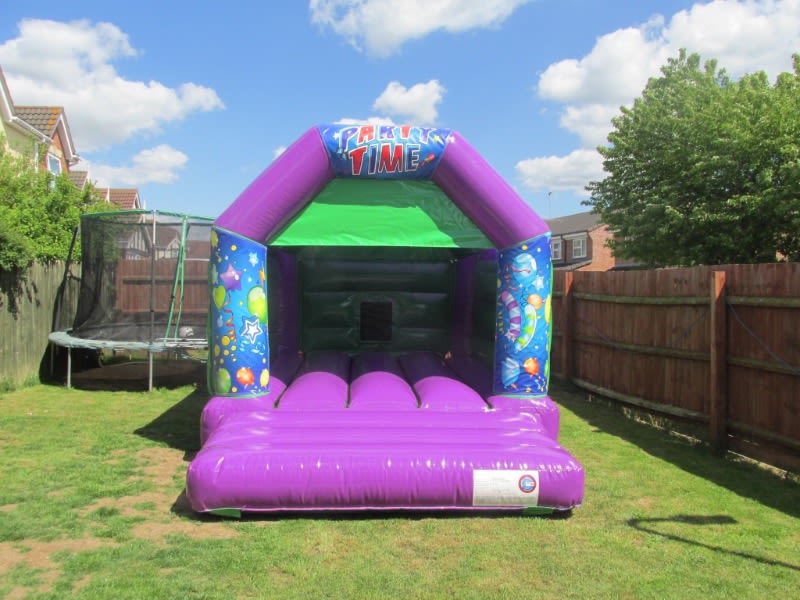 Adult Bouncy Castles
Whilst we don't actively look for adult bouncy castle hires in Spalding or indeed anywhere else we do have several bouncy castles that will take adults. This means should you have younger children who need the help of an adult or should you have older children who are close to the size of an adult we do have something suitable. If you're unsure please just give us a call and we'll be able to advise.
Several of our inflatables including our fantastic disco dome and inflatable slide are suitable for larger children and adults as well as a giant garden games to name a few.
Soft Play Hire
Almost as popular as our Bouncy Castles is our Soft Play Party Hire. With a range of soft play shapes, safety matting, lots of ride-on toys and range of ball pools, our soft play parties are available to hire with or without a bouncy castle. The soft play parties are perfect for under fives and are always raved about by the parents. With such variety in the package there is always something to entertain the children and even though they may not be entertained by one particular item for long there is enough included in the packages that they can rotate between the different toys and entertain themselves hours.
Party Bags In Spalding
Alongside our Bouncy Castle Hire and Soft Play Hire we also have some great party bags available to take even more stressed out of your big day. Please take a look at our party bags tab we have everything from sweetie cubes to cones and traditional style party bags. With prices from only £1 per bag we don't believe you'll find these cheaper or better anywhere else.
Why Choose It's Funtime?
Here at Its Funtime bouncy castle hire in Spalding we take great pride in providing inflatables of the highest standard to our customers. This means the inflatables are in excellent condition within two years old. They delivered clean and on time every time I'm to the venue of your choice. All of our bouncy bouncy castles are tested to the highest standards and cleaned thoroughly after every use. We also only supply British built bouncy castles. This is to guarantee safety standards for our customers
Our service is the best of the best but don't take our word for it take a look at all our reviews from our previous bouncy castle hire customers you won't find a negative anywhere. It's Funtime have an extremely high reputation by providing a very reliable high-quality bouncy castle hire service with the best rates available so let us take care of your special event to make it one to remember. We are your first choice of bouncy castle hire in Spalding!
How To Book A Book A Bouncy Castle In Spalding
Making a booking with Its Funtime bouncy castle hire really is very easy. You can use our online booking system system 24hrs a day. Just go through the website, find bouncy castle, soft play party or party package that you are looking to hire and once you've found the perfect items just click the book online button and enter your details to confirm the booking. Once we've received your booking we will give you a ring within 48 hours to confirm all the details are correct and then we will be looking forward to meeting you on the day. Alternatively should you prefer a more personal touch you are more than welcome to give us a call on 01789 570394 for 07592 373 310. The phone is the manned from 8 a.m. till 9 p.m. seven days a week, or you can send us an email right here.
We look forward to hearing from you soon!