Bouncy Castle Hire in The City Of Peterborough
Posted By: Its Funtime | Posted Date: Wednesday, March 11, 2020
Bouncy Castle Hire In The City Of Peterborough.
Are you looking for bouncy castle hire in or around Peterborough? If so you've come to the right place. Here at It's Funtime we are the specialists and number one supplier of bouncy castle hire in Peterborough.
The sun is finally starting to shine the days are warming up and certainly getting longer and people are starting to think about Summer. Here at It's Funtime we have a fantastic range of inflatables for hire around Peterborough all of which can be hired for indoor or outdoor parties. What could be better than a lovely summer's day, family barbecue with the bouncy castle on the lawn to entertain the children? You might even get the odd cheeky drink in while the children are playing

We have a huge range of inflatables available for hire in Peterborough including dance and bounce inflatables, bouncy slides or just a standard bouncy castles we all know and love.
Disco Bouncer Hire in Peterborough
The "new kid on the block" with regards to inflatable and bouncy castle hire in the UK is the dance and bounce style bouncy castle. These bouncy castles include a Bluetooth speaker built into the into the the bouncy castle and disco lights in the roof so you really do get the best of both worlds. A fantastic bouncy disco! Our disco bouncy castles are available with a variety of themes including superheroes, princesses, balloons and many more. The other nice thing with the disco bouncy castles is if you want them for a hire outdoors, the disco bouncers always come complete with a shower cover roof should you get the odd shower, the children will be protected but also should it be a particularly sunny day, the bouncing area of the bouncy castle won't get too hot as it will be under the shade of the castle roof. - win win!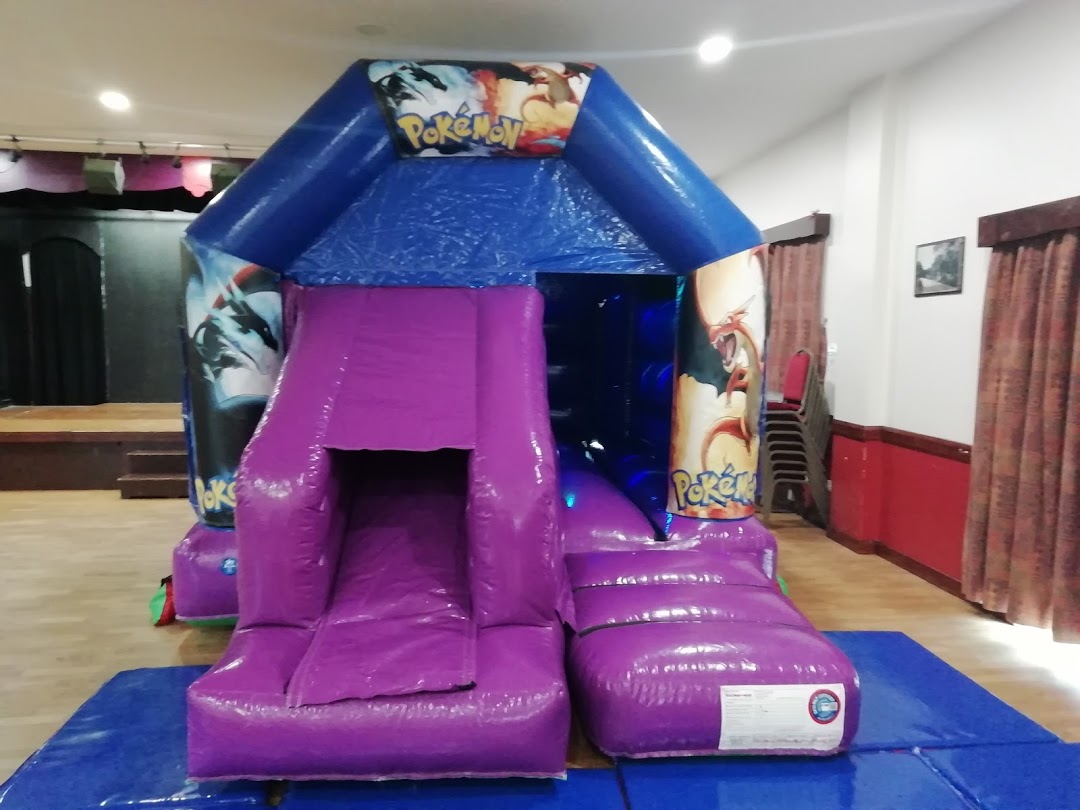 Inflatable Slide Hire In Peterborough
We also have a great variety of inflatable slides for hire in and around Peterborough. We have everything from standard castles with a slide built in slides - either on the front or on the side of the castle up to our fantastic garden slide. The garden slide is 10 ft high in total with a 7 foot high platform and is perfect for up to age 8. Whilst it isn't the largest of inflatable slides available for hire, it is a very fast side and so makes up for being a little shorter by being faster. The reason why our inflatable slide is 10-ft high is because this is the highest our insurance will allow an inflatable slide to be hired to the general public without supervision being supplied. Obviously should we need to supply supervision at all, he cost will increase so to keep our prices as reasonable as possible, we take this inflatable slide to the limit of what we are legally allowed to hire without out jeopardising safety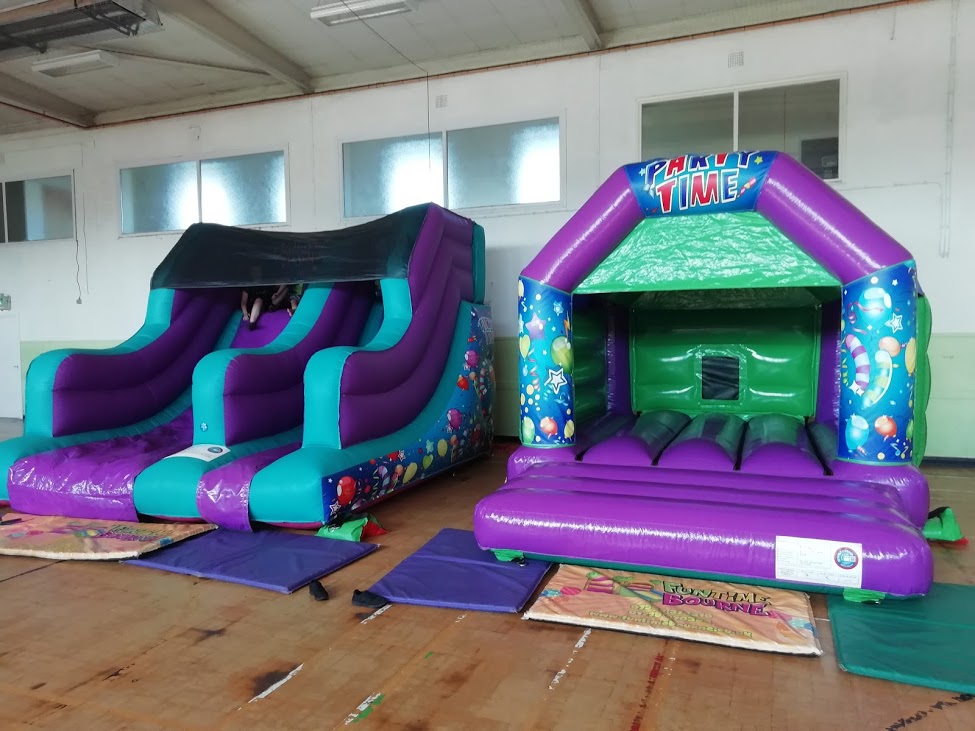 Inflatable Toddler Play Park Hire In Peterborough
Here is picture of our fantastic inflatable toddler play park which is available for hire in and around Peterborough. This particular bouncy castle is only available for indoor hires due to the ball pit which is enclosed in the bouncy castle. As you can imagine if it's outside in a garden the balls end up going over the fences and end up in every corner of the garden hence this one really is best to be kept indoors only. That said it is a nice low height bouncy castle and will fit in near enough any venue you may choose. It is the perfect option for your preschoolers and offers good visibility for supervision due to the netted sides and the children can see their parents when they are inside the castle making them a lot more confident to go and play.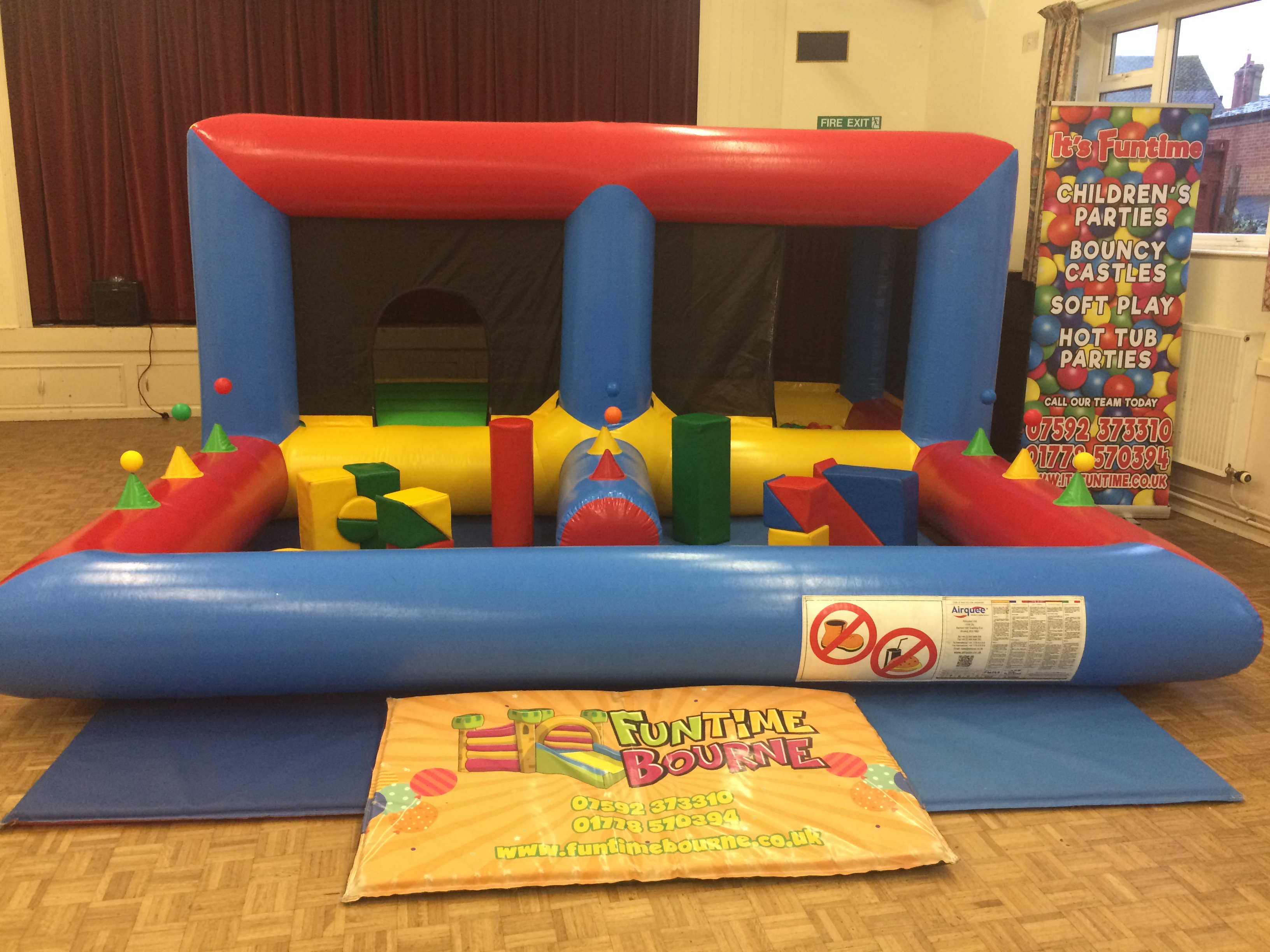 Soft Play Hire in Peterborough
We are also very happy to supply our soft play parties which are the very best around for hire anywhere in Peterborough. The only stipulation with the soft play parties is that they do need to be indoors or undercover so that means if you're not hiring a hall, the soft play would need to be in the house or at the very least underneath a gazebo to give protection from the elements. Unfortunately the nature of soft play is that the shapes for example are made of foam and should these get wet from rain they take a long time to dry out and can go mouldy in the meantime. Let's face it, who would want to hire mouldy soft play? Hence why we don't allow these outside to be subjected to the elements.
If you are looking to plan an indoor party or outdoor bouncy castle garden party, please do give us a ring as soon as possible. Every year as soon as the sun comes out the phone starts ringing and the most popular dates in summer book up quickly so please if you have an event that you know is coming up in the summer and you want to specific date or a specific castle, please do book as soon as possible to give you the best chance of getting the inflatable you want on the date you want. We are incredibly busy right now and emails do of course take a little while to reply to. Right now, we do strongly recommend that you call us on 07592 373310 in order to get your chosen equipment reserved immediately.