Bouncy Castle Party In Cowbit, Spalding
Posted By: Its Funtime | Posted Date: Sunday, July 21, 2019
Bouncy Castle Party In Cowbit, Spalding
Morning folks! This morning I've decided to feature one of our most popular parties. These days unicorns are absolutely huge with little girls and everybody wants a unicorn party. As you can see below this was one of our unicorn parties booked for Cowbit Village Hall near Spalding yesterday. These were returning customers and have booked their parties with us for the last 4 years which is always lovely, and this year they chose the unicorn and bounce and slide bouncy castle along with the ever-popular didi cars and the unicorn hoppers. The party was a huge success!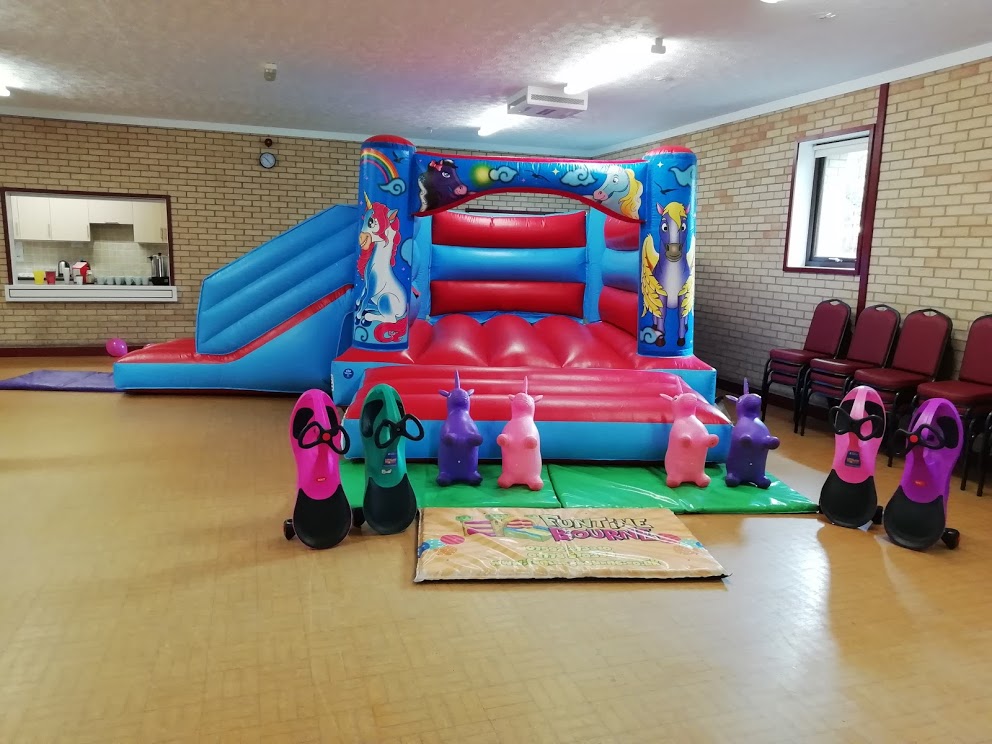 In particular, the customers were extremely pleased that they had booked Cowbit Village Hall for their party as yesterday was quite windy and wet and sadly some bouncy castles had to be cancelled due to the weather conditions. However when you book a hall, you buy an insurance policy that guarantees your party will go ahead no matter what the weather throws at us.
As you can see the bounce and slide bouncy castle fits comfortably and Cowbit Village Hall. When booking this Village Hall the one thing you do have to consider is the ceiling height, as you can see in the photographs it's not the tallest of buildings so you do need a low height bouncy castle either one of our deluxe bouncy castles or the low height bounce and slide bouncy castles are perfect.
Lots of people use this venue with either a pic 3 or pick 5 party package whereby you select your bouncy castle and then selected either two or four other items so you can personalize your party. If you've got lots of little ones maybe go for the toddler equipment, if you have bigger children maybe go for the didi cars and the mini disco and if you've got a mixture you could even go for a castle with a ball pit and the didi cars - something for everybody!
We have seen a steep rise in our bookings for bouncy castle hire in Spalding recently so if you are looking to hire a bouncy castle in Spalding or the nearby villages please do book early as in the high season we do get fully booked. As always you can book by telephone (01778 570394 / 07592 373310) or online 24 hours a day, whichever you prefer.