Bouncy Castle Rental In Peterborough
Posted By: Its Funtime | Posted Date: Tuesday, February 11, 2020
Bouncy Castle Rental In Peterborough
Are you looking for bouncy castle for hire in Peterborough? If so so you've reached Peterborough's leading bouncy castle hire company - It's Funtime!
This weekend just gone we've had a lot of bouncy castles out for hire in various village halls and community centres in and around Peterborough on Saturday and we thought we would share some of these parties with you to maybe give you a little inspiration for your next event.
Stanground Baptist Church Hall
This fab party was for little Lizzie's birthday out at Stanground Baptist Church Hall near Peterborough. As you can see daddy "Mark" booked the piggy bouncy castle with a ball pool and a giant LEGO to add an extra dimension to the party. We do a few parties at Stanground Baptist Church Hall. It is not the biggest of venues but is fantastic value for money and has a really nice friendly feel to the place. You can fit one of our taller bouncy castles in this hall - anything up to 10 foot will fit fine so you're fairly unrestricted height wise although if you require a bouncy slide bouncy castle you will need to be looking at one of the front slide combination bouncy castles. The hall is quite tall but it's not terribly wide.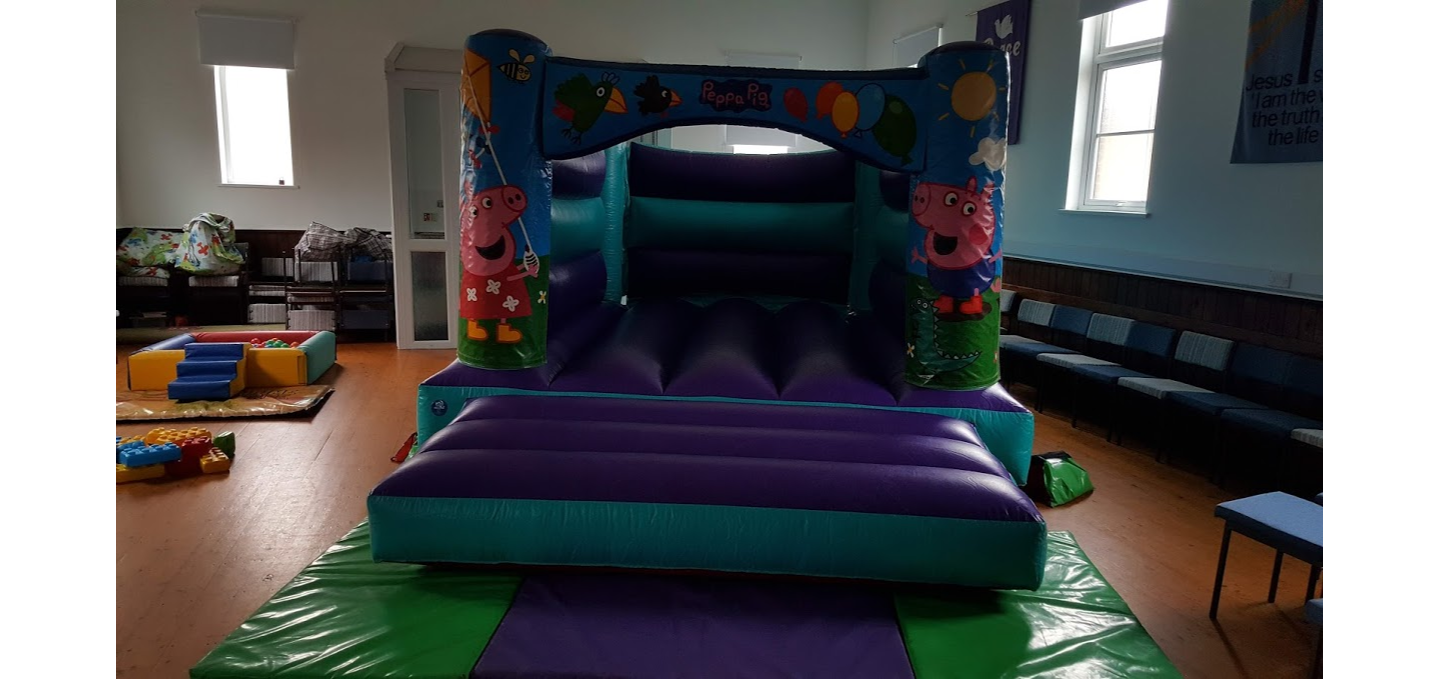 Wittering Parish Hall Birthday Party
Our next party on Saturday was a fabulous bouncy castle and platinum soft play party at Wittering Parish Hall. This was for a 1st birthday party and I think it would be fair to say that mum was a little bit apprehensive about holding her first birthday party. Here we pride ourselves in being as helpful as possible and doing all we can to reassure parents on the run up to their big day that they've got suitable equipment and that the party will go without a hitch. As you can see we've got our unicorns pink bouncy bouncy castle in Wittering Parish Hall which is perfect for any age up to age 9 but also we have the magic ball pool, the soft play selection and also the fantastic kiddie roller coaster. Roller coasters are always a huge hit amongst the kids and although it is recommended for preschoolers, my 9 and 10 year old seem to love them! We are often asked what equipment people should choose when they have a wide range of ages attending a party and we normally recommend that you go for the younger age group appropriate equipment. This is because older children will always make their own entertainment from the younger children's equipment where as it can be unsafe for babies and toddlers to be using equipment that is it intended for older children. We are really pleased that the lovely ladies in Wittering Village Parish Hall allowed us an hour and a half to setup - what a luxury! We can set up in just half an hour if we need to however we do always appreciate a little bit more time as fairly often your guests will start arriving 10-15 minutes before the party start time so if you cut the set-up time too tight you can be still setting up whilst your guests are arriving! These customers actually originally ordered a taller a-frame bouncy castle and they were intending to have it out on the playing field, however storm Ciara put paid to these plans and so we changed to a lower height bouncy castle so the whole party could be moved indoors.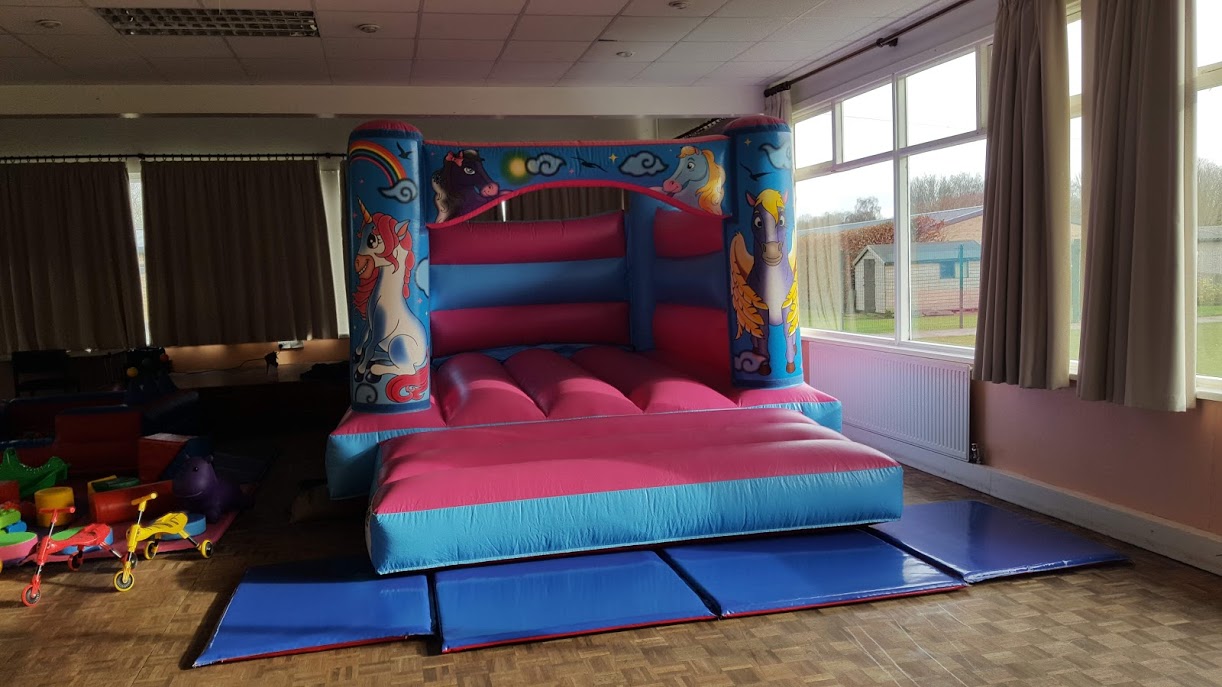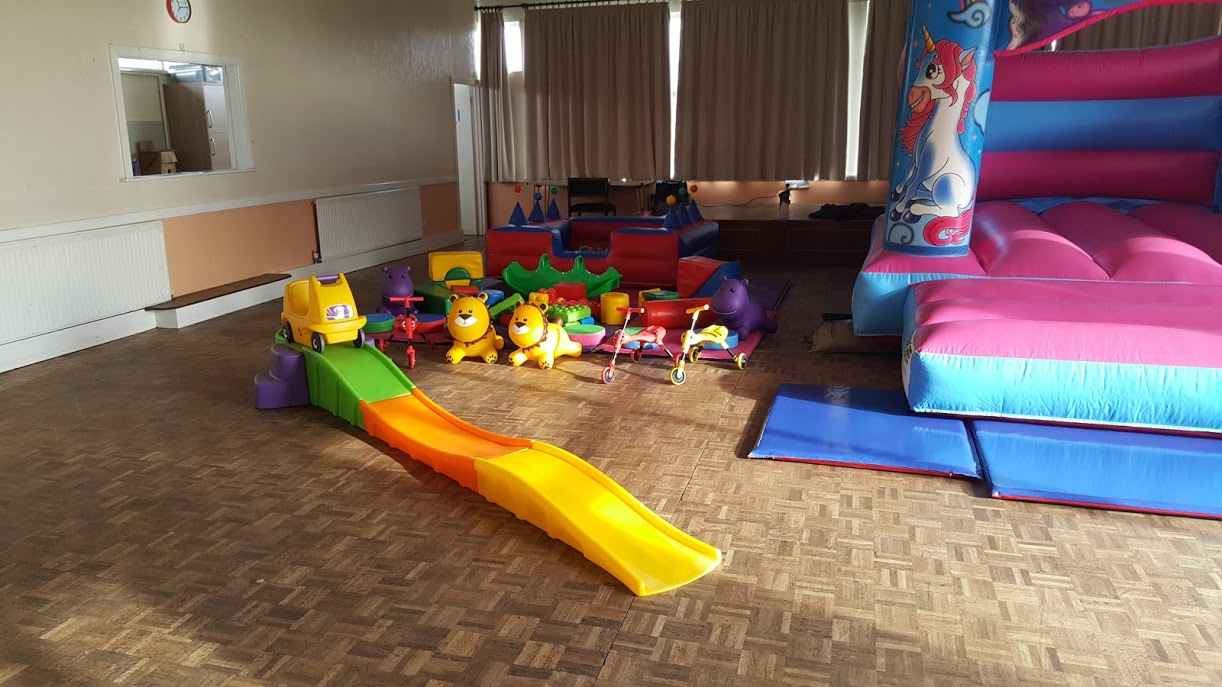 Thorney Methodist Church Hall
Our last booking for a bouncy castle hire in or near Peterborough on Saturday was for our fantastic disco dome out in Thorney Methodist Church Hall. As you can see this fantastic castle is completely blacked out inside and comes complete with a Bluetooth speaker and disco light and is perfect for slightly older children. We recommend this disco dome bouncy castle for ages 6+. As you can see the fantastic disco dome fits perfectly in the Methodist Church Hall in Thorney and we are very happy to deliver out to this area, the only thing to remember if we do have a modest delivery charge for the Thorney and Eye areas.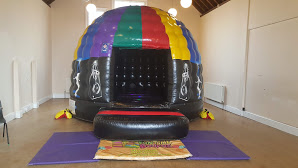 As you can see we have a large range of bouncy castles and soft play equipment that will comfortably fit inside the many halls available for hire in and around Peterborough. This is why we specialise in low height bouncy castles - you can easily put a short bouncy castle in a garden that you can't put a tall bouncy castle in a low ceiling hall!
We hope we've given you a little inspiration today, don't forget you can have all of our bouncy castles either indoors or outdoors. In summer you can plan a fantastic garden party or barbecue event as long as you have sufficient grass to position bouncy castle but they are also perfect for hiring in any village halls or community centres locally. We are already getting booked up on some summer dates particularly bank holiday weekends, so if you do have a summer party to plan please do get in touch ASAP to reserve your chosen equipment for your big day. You can book online using a fantastic online booking system any time of the day or you can give us a ring between the hours of 8 a.m. and 9 p.m. seven days a week and we can get you booked in on phone.