Bourne Carnival And Classic Car Show 2019
Posted By: Its Funtime | Posted Date: Thursday, June 13, 2019
Bourne Classic Car Show and Bourne Carnival This Weekend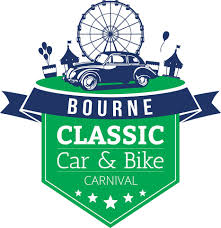 This weekend (Sunday 16th June 2019) marks another exciting weekend in the Bourne calendar. This weekend it is Bourne Classic Car And Bike Carnival.
The Bourne classic car and bike show was created 10 years ago by Bourne motor racing club. Having spotted a gap in a towns' celebration of their motoring history and not wanting this to be forgotten the classic car show was born. Since then the show has played host to over 300 vehicles and motorbikes all on display on the Wellhead Park in Bourne, always staged on father's Day annually.
The classic car show and carnival incorporates the whole Wellhead Park, South Street car park, West Street and various other areas and there will be a variety of things for the whole family to do including over 300 classic cars bikes and buses, vintage funfair, live music and a variety of trade and charity stalls. This year's carnival is definitely not want to be missed.
With all the awful weather we've been having recently the forecast is looking better for Sunday so hopefully the classic car and bike carnival will go ahead without a hitch. It is currently looking warm sunny with a light breeze. As normal, there will be a huge selection of catering outlets including our friends at groovy foods so don't worry about cooking roast dinner before you attend, grab a bite while you're out and support local business.
So if you're looking for something to do on Sunday because you don't have a bouncy castle party booked, please pop down to the wellhead park and pay a visit to Bourne classic car and bike carnival to see the classic cars, live music, charity stalls and so much more. We'll see you there!