Funtots Soft Play Centre Edenham Near Bourne
Posted By: Its Funtime | Posted Date: Wednesday, May 15, 2019
Funtots Soft Play Centre, Edenham Nr Bourne

We are taking a break from Funtots until September, but would like to thank everybody who has supported us and we look forward to seeing everybody again soon.
Helen & Steve @ Funtots. x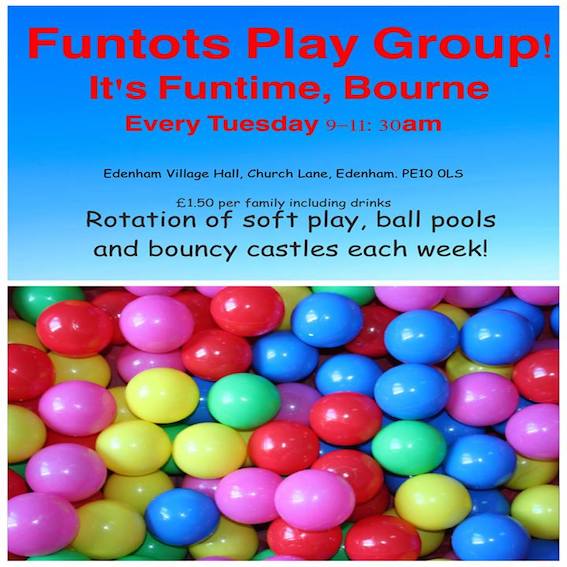 Are you ever at a loose end, looking for something to entertain your little ones that won't break the bank? Then look no further! Here at It's Fun Time Bouncy Castle Hire we are super excited to announce that we will be running "FunTots" at Edenham village hall every Tuesday from 9am 'til 11:30am (Term Time Only). For only £1.50 the whole family can come to play!
Each week we will have a variety of equipment. Every week there will be a safe and hygienic matted baby area, then we will rotate the equipment supplied. It could be anything from bouncy castles to soft play, ball pits, character visits, mini discos and ride on toys. The toys will be rotated every week to keep them fresh and new and obviously as with everything else, all of our equipment is under 2 years old and sanitised after every hire.
Why non pop in to see us? It would be great to see lots of mummies with their little ones having a little social gathering, so gather your friend and come on down. EVERY TUESDAY 9am-11:30 - if schools open, we're open!
Obviously we are happy for you to bring your own drink etc for your little ones and baby feeding is encouraged at any time needed. The cafe will be selling everything from teacakes to bacon rolls and crumpets to cake as well as coffee and tea etc. so there's something for everyone.
This is in no way a profit generating idea for us and any profit created will be reinvested in new toys for the play group. It is purely our contribution to the local community to help provide somewhere warm and accommodating where you can visit with your children to ensure they are suitable worn out to have a good, long afternoon nap!
Edenham village hall is just 5 minutes from Bourne, but if you need help with directions to find us, please feel free to give us a ring on 07592 373310 / 01778 570394 or drop us a message via our email.
Here's the full address:
Church Lane
Edenham
Bourne
Lincolnshire
PE10 0LS