Halloween Party Food Ideas - Halloween Baking!
Posted By: Its Funtime | Posted Date: Friday, October 18, 2019
Halloween Party Food Ideas - Halloween Baking!
As any of our neighbours will probably testify, here at It's Funtime we LOVE all things Halloween! When the big day arrives we aways decorate the house, put out a spooky dome for our trick or treaters and have lots of goodie bags for everyone but my personal favourite bit is the Halloween baking and party food. So here I thought I would share a few of the party food I make for our halloween parties...
Mummy Hot Dogs

You'll need: Pre-rolled puff pastry, hot dog sausages, french mustard and spray oil.
Pre-heat the over to 375 degrees
Unroll your dough and separate it. Cut the sections into long strips.
Wrap pieces of dough around the hot to give the mummy his bandages. Make sure to leave room for his mummy face.
Place a sheet of foil onto a cookie sheet and spray with cooking spray to prevent the hot dog mummies from sticking.
Place all of your wrapped hot dogs on the sheet.
Bake for 13-17 minutes until dough is golden brown.
Using your mustard, give eyes to your mummies!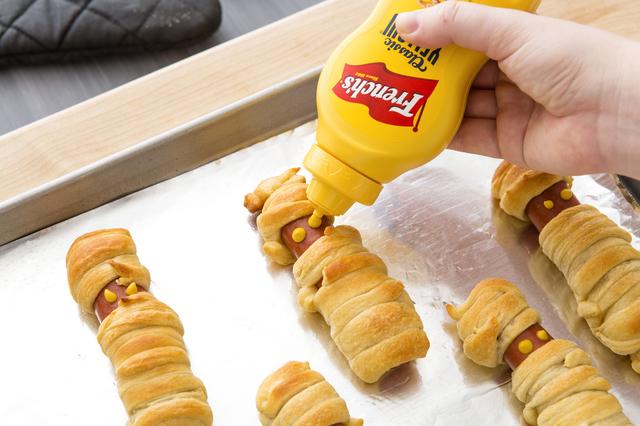 Strawberry ghosts!
These little dudes are some of my absolute favourites. So easy yet effective too.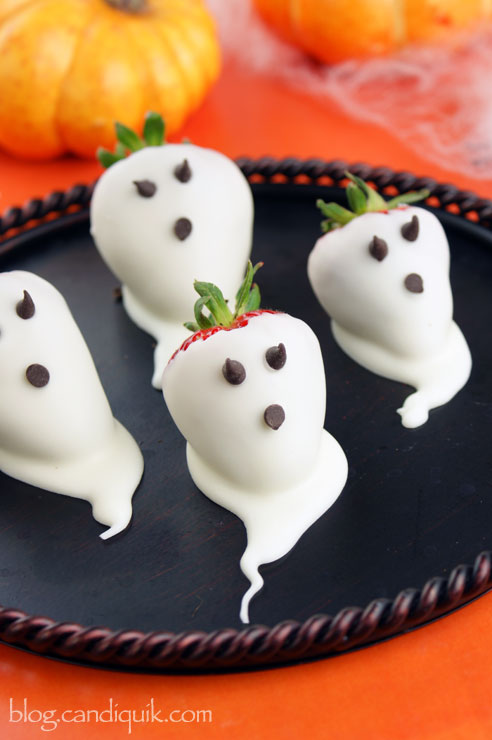 You'll need... Strawberries, white chocolate, dark chocolate chips.
Melt your white chocolate and give the strawberry a good dip in the melted chocolate and immediately bring to the wax paper. Holding the stem of the strawberry, let the excess coating drip off and form the tail. As you can see, I drizzle the coating off of the end of the strawberry before setting it on the wax paper. Use the dark chocolate chips to add eyes to your strawberry ghosts and chill.
Eyeball Pasta!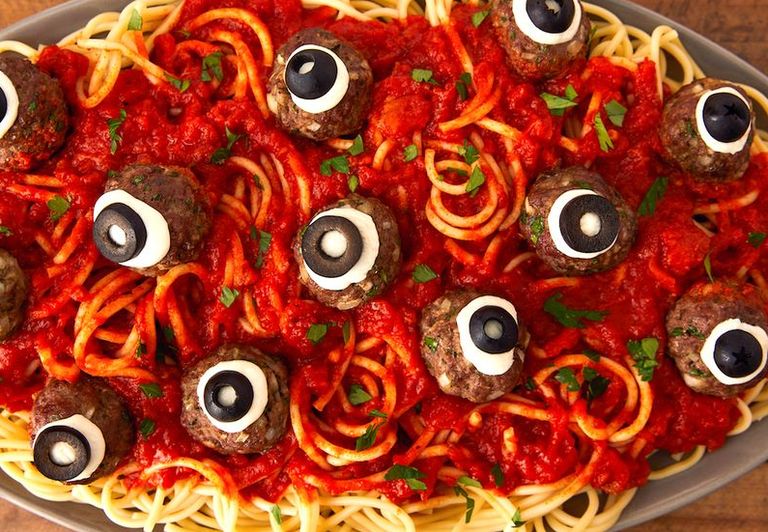 Another staple on the menu on Halloween evening is the amazing eyeball pasta! Now I'm going to assume that as you're most likely parents reading this, I don't need to explain how to boil spaghetti or cook meatballs? When they're both cooked, simply add the tomato sauce and place a circle of mozzerella cheese on top of each meatball. On top of the cheese add a circle of black olive to complete the eyeball. So simple yet soooo effective!
So what traditions do you have for Halloween? It's seems to be generally much more celebrated these days with most households doing something . Gone are the days of people closing the curtains, turning off the lights and pretending to be out all night!
Do you have any fantastic Halloween party ideas you could share with us? Maybe some more fab Halloween Party Food Ideas? Drop us an email and maybe we can add your ideas right here?
Helen @ It's Funtime