Jumping Castle Hire In Spalding
Posted By: Its Funtime | Posted Date: Monday, January 6, 2020
Jumping Castle Hire in Spalding
Jumping castle hire in Spalding is what we do best here at It's Funtime! What could be better, a lovely summers days, family barbeque in the garden, a few drinks and a jumping castle to entertain the kids! Yes, that right! All of our bouncy castle are available to hire either indoors in village halls and other party venues or outside in private gardens.
Best Value Jumping Castle Hire In Spalding
We think jumping castles represent fantastic value for money. A typical garden hire would last for 6 hours or so, with prices starting from just £60. That means it's only £10 per hour to entertain a whole party of children. During the long summer holidays when the weather is good, we often get families clubbing together to hire a castle for the day and they throw a barbeque party to get the kids together out of school. It's always very well received by the children who are missing their school friends and just a really fantastic social occasion.
Jumping Castles On Patios and Concrete Driveways - Are they safe?
It is a question we are often asked "can I have the bouncy castle on my patio / driveway?" and unfortunately the answer is no. In order to set up safely we have to be able to anchor the bouncy castle using giant pegs which are driven into grass to hold the castle down in case of wind. On concrete driveways and patios, there is unfortunately no effective way of anchoring your bouncy castle. That's not to say you will never see unsafe set ups. Sadly it is only to common to see bouncy castle operators flouting the law and putting the childrens safety at risk. What we would always say to you is don't assume any bouncy castle set up is safe, take a look for yourself. Does the jumping castle look modern and well cared for? Can you see where the castle in anchored in at least 6 places? If the answer to any of these questions is no, then you should not allow you children to play on the inflatable equipment. It is not safe and should any accident happen, the operator would be uninsured due to now following best practise.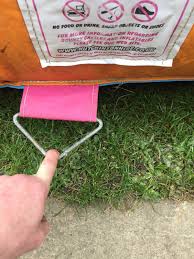 Are Jumping Castles Safe?
Absolutely! If properly maintained, and set up correctly, jumping castle are extremely safe. What could be safer and more fun than bouncing on a huge bag of air?! The time jumping castles become unsafe is if they are badly maintained or badly set up. That is why we have explained the above safety requirements, so as you can make a fully informed decision about who to hire for your next jumping castle party from and whether to let your children play on any given inflatable at the next event you attend. We hope you have found this article informative.
Until next time, see you soon!
Helen @ It's Funtime