Lamas Or Flamingos? Well Let You Decide!
Posted By: Its Funtime | Posted Date: Monday, April 19, 2021
What's New For Bouncy Castle Hire In 2021?
Here at It's Funtime, we always try to keep up-to-date on all the new themes and popular TV shows that your little ones are watching as inspiration for the next products we purchase. There are a few new fantastic products on the market this year and some amazing themes that we really, really do love. We're going to take a look at them here today, there are two that have particularly caught our attention and would like your feedback as to which of these your children might like as their bouncy castle hire for 2021.
Drama Lama Bouncy Castle Hire Peterborough
We've all heard of the drama llama and now it is appearing on our bouncy castles! Yes that's right, we have a fantastic opportunity to buy a llama themed bouncy castle. I know it sounds a little random but it actually looks a really beautiful castle and we think it might be quite popular. It is available without the slide on the front as a standard A-frame castle or with a slide. It has a giant inflatable llama (or it might be an alpaca we're not quite sure, we don't really know the difference!) on the front. I will put the photo below for you to take a look at and please do let us know if you would be interested in hiring at the Llama bouncy castle in Peterborough this year.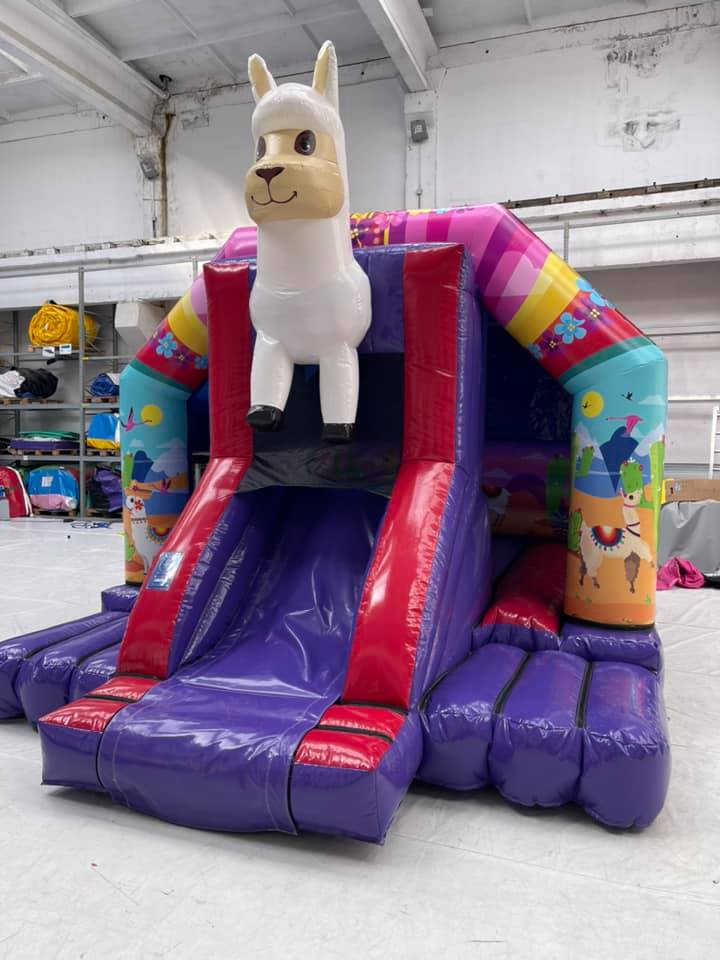 The second thing that really caught our attention is the Pink Flamingo theme. Again I know a little random, but it really is beautiful. To me it reminds me of holidays and fun times and in bright pink it's sure to appeal to any of your little princesses. These bouncy castles and made by Airquee inflatables who are based in the South Wales and produce the highest quality bouncy castles available on the UK market at the minute with lots of extra safety features as well as stunning designs. We really think this flamingo theme could be a hit what do you think? Would you hire a flamingo bouncy castle for your party in Peterborough this year?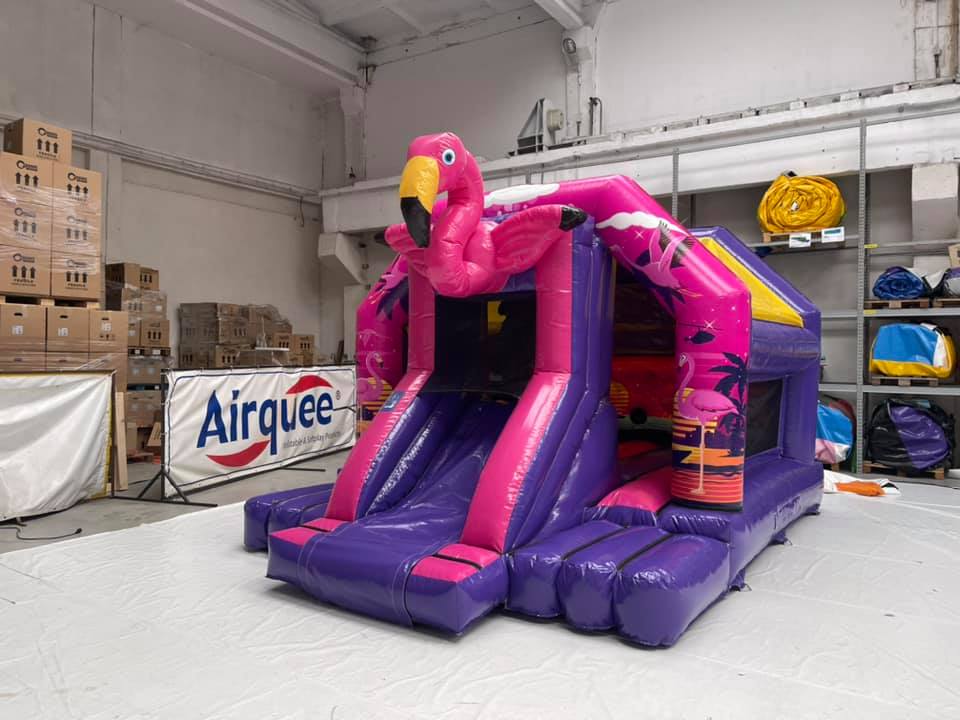 We really love the drama llama and flamingo themed bouncy castles, the only concern we have is they are very tall bouncy castles so are unlikely to fit in any indoor venue so they would be for garden hires only. Please do feel free to let us know on our social media accounts whether you would like the llamas or the flamingos or whether you think they're both a little bit silly! We are always looking for new themes for a bouncy castles so if there's something your little ones love that we don't have, please do get in touch and let us know. We do try to keep in touch with current friends but now our boys are getting a little bigger we are losing touch a little with what the younger children are loving and we do have boys so it can be a little difficult knowing what the girls like! We do of course have the ever popular princess bouncy castles and unicorns but it's always great have lots of choice.
So anyway please do check back very soon to see which of the flamingo or llama bouncy castle we went for.