Nerf Party Hire - Its Nerf Or Nothing!
Posted By: Its Funtime | Posted Date: Wednesday, February 26, 2020
NERF Party Hire
Here at It's Funtime we have a huge range of bouncy castles available for hire in Bourne, Spalding, Peterborough Stamford and beyond but we are always looking for the newest and most popular themes go on our Bouncy Castles and to offer as party packages. One of the new themes that seems quite popular at the minute is a NERF party. A NERF party would involve a nerf themed bouncy castle and also we've been looking at the nerf shootout play centres. The NERF shootouts involve a low level inflatable with air jugglers on the side that balls can float above and then the children are supplied with nerf guns to shoot the balls that are floating. We think this would add a nice dimension to any children's party and would be especially popular for boys birthday parties maybe around the ages of 6 to 9 and would love to hear what you think?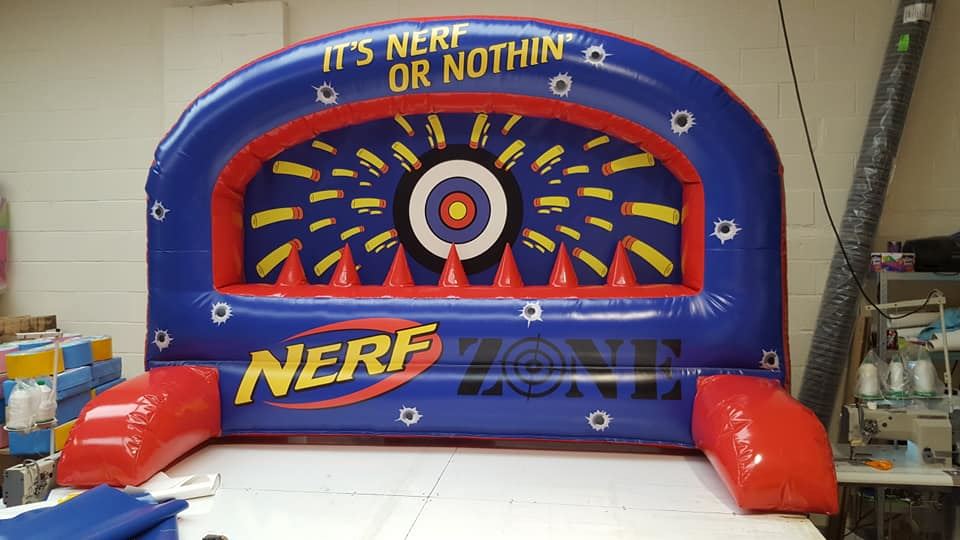 NERF guns in the UK
In case your children aren't already obsessed with NERF guns yet, we will give you a quick rundown of what it involves. NERF guns are made by hasbro corporation and they fire rubber tipped foam darts, discs or balls. NERF is a certain brand of this type of gun and there are other cheaper guns available but they tend not to have the quality of the Nerf branded products. Nerf guns first emerged in the late 1980s with the release of the NERF blaster ball launcher. There are currently 18 nerf gun products available including the N-Strike Elite, The Alien Menace, Dart Tag, Vortex, Zombie Strike, Modulus, Mega, N-Strike, RIVAL, Doomlands Super Soaker, Accustrike Rebelle, Modulus Ghost Ops, Laser Ops Pro, Microshots and Mega Strike. NERF blasters come ready to go with a set of foam darts however you will soon need refill packs which can be purchased from any major toy shop or what department store.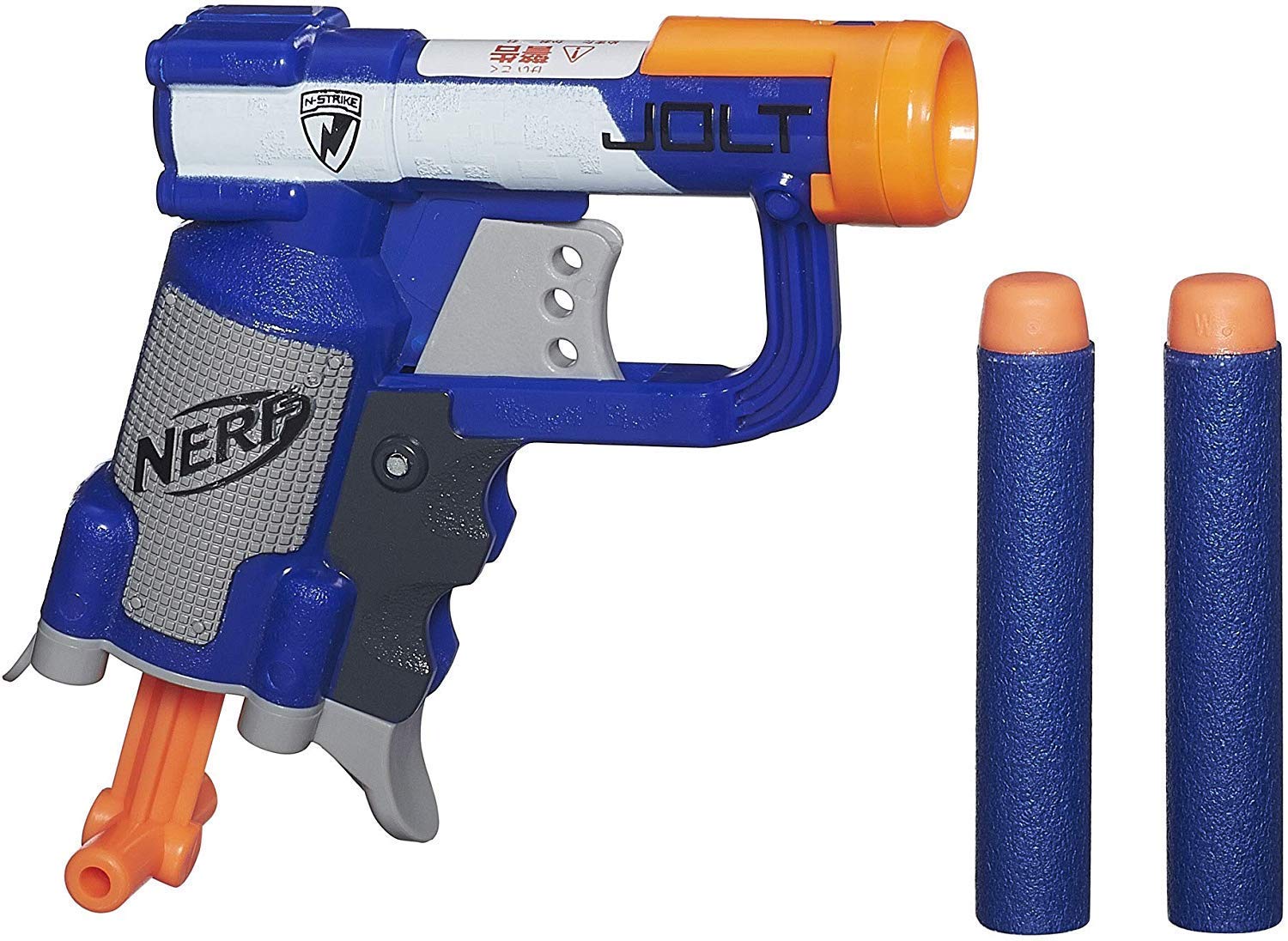 Nerf N-strike
the nerf n-strike is the main line of blasters of the toy series. This line consists of toy guns that are that shoot rubber tipped foam darts and the type we would be most likely to use. They allow for swift reload and shoot far enough without traveling miles! Obviously due to the rubber tipped foam darts, we would supply safety Goggles for the children using the guns to ensure they can do so safely.
The other type of Nerf guns we are considering are the Laser Ops Pro. These Nerf guns don't actually shoot darts, but fire laser beams instead and hits are automaticaly recorded on the individual devices. Our children have these particular guns and love chasing each other around the local parks shooting each other!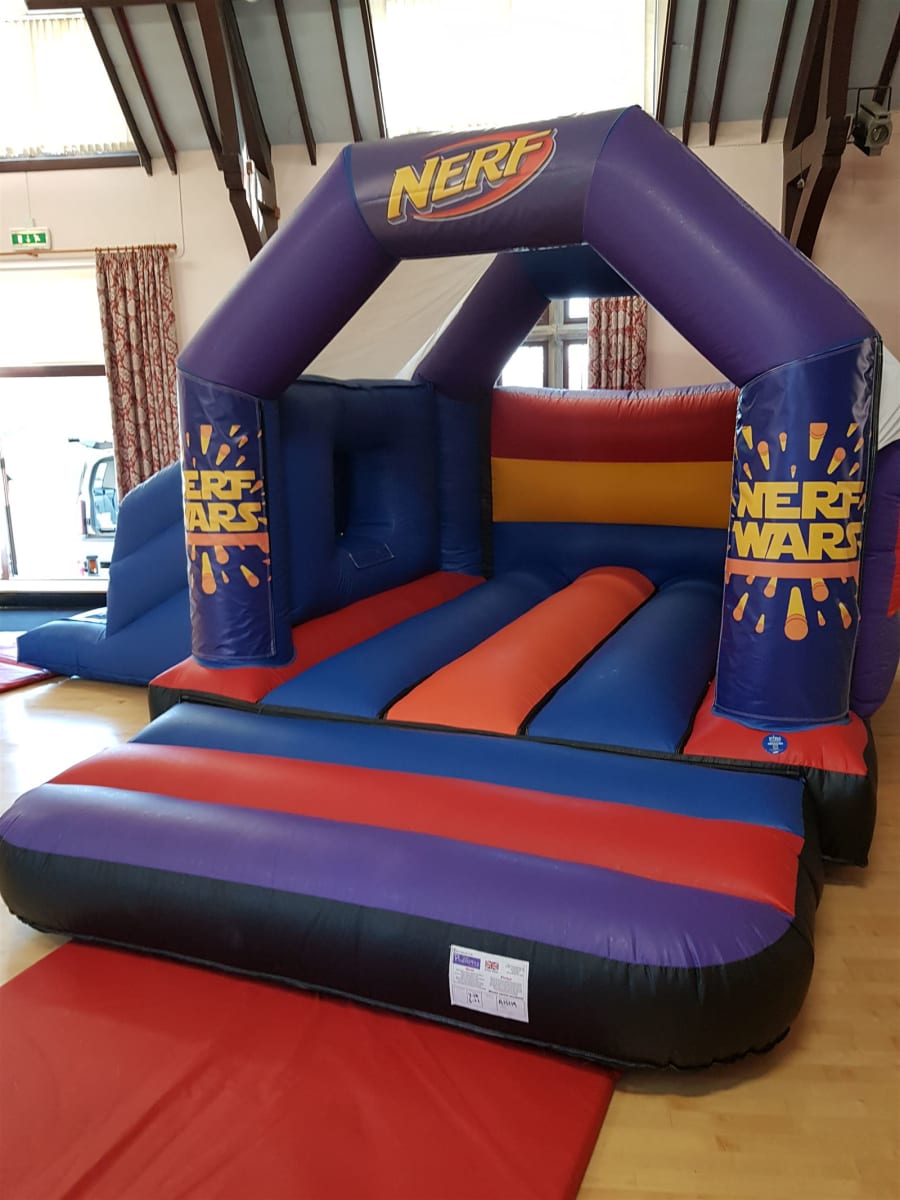 As you can see nerf guns are big business and extremely popular with kids these days so we will be considering very carefully investing in this particular niche for the summer season. Don't forget if you do have a party coming up you can book any of our Bouncy Castles or soft play online using the online booking system or should you prefer to speak to a real human being please do feel free to drop us a line on 07592 373310 or 01778 570394