Our Previous Happy Customers @ Its Funtime Bourne
Posted By: Its Funtime | Posted Date: Wednesday, December 18, 2019
Our Previous Happy Customers @ Its Funtime Bourne
Whilst the bulk of our work here at It's Funtime is bouncy castle hire and soft play hire for private parties particularly birthday parties, christening celebrations and weddings, we do also offer hire for corporate events and team building days. Over the years we've gained quite a portfolio of companies for which It's Funtime is the company of choice when requiring bouncy castle hires and family entertainment.
Often corporate clients can be little bit more difficult to please as they have very limited time to secure the booking and on the day, limited time to set up whilst having lots of other things to consider at the same time. What's more they obviously want best value for money with the best equipment and require all of the applicable paperwork to ensure that the insurance is in force. This means all testing certificates, insurance documentation, method statements and risk assessments will need to be provided in advance before the job can go ahead. Below you can see some of our corporate customers.
Warners Midlands PLC
Warners Midlands PLC are a family run company specialising in high quality magazine, brochure and catalogue printing. Based in Bourne, South Lincolnshire they are one of the largest employers locally. All of their printing goes on at their location on on West Street in Bourne where they have a large office and printing premises. Warners are a fantastic company who put on lots of family events for their employees as well as lots of charity fundraisers for which we have been very pleased to supply bouncy castles and soft play. Warners are very safety conscious company and always request all documentation before booking can be completed, and rightly so.
Busy Bees Nursery, Bourne
Busy bees is a fantastic family run nursery based on Manor Lane in Bourne. They offer childcare for children from 6-weeks old all the way up to their after-school club, "The Beehive" at 11 years old. Starting from small premises at the St John's ambulance building many years ago they have now graduated to their large premises and are actually going to be moving in the near future. Their current large premises have 6 main rooms for different age groups and development stages. They are open for long hours from 7:30 a.m. until 6 p.m. which fits well with working families and also accept early years funding. At least once a year busy bees always come to us for their entertainment provision for their summer fete. Busy Bees particularly loved our toddler activity bouncy castle as it's so safe and popular for toddlers.

The Harbour Cafe, Rutland Water
A fantastic location very popular for wedding celebrations and receptions on the huge Rutland Water Site. But the water is owned by Anglian Water and is a an active reservoir but also offers various wedding services, watersports, man-made beach and much more. We are very frequently called into the harbour cafe as their supplier of choice for for inflatables and soft play hire for wedding parties particularly.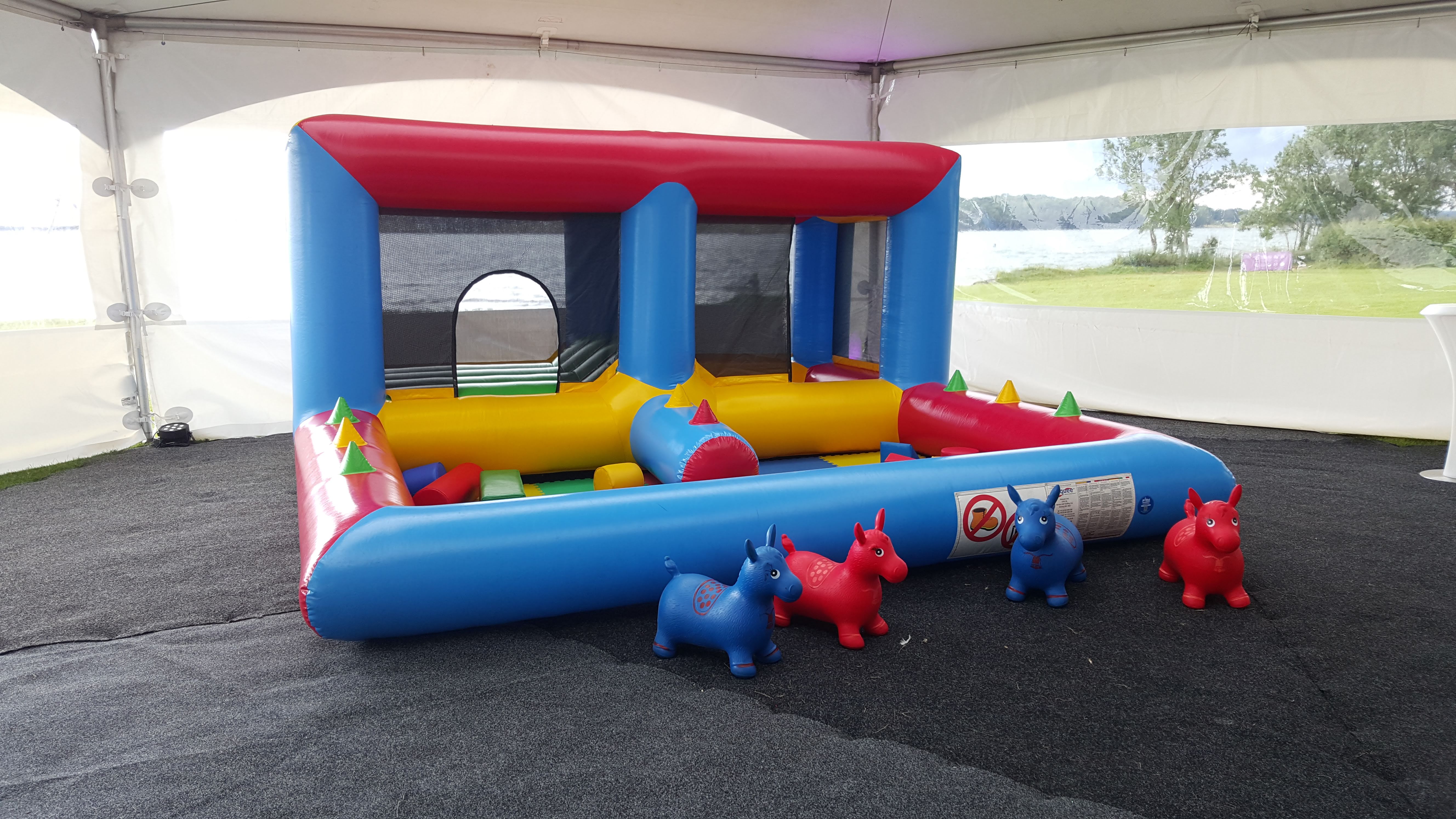 The Wicked Witch Ryhall
We are frequently at the Wicked Witch public house in Ryhall near Stamford to provide inflatables and soft play hire in their garden during summer months. This is a fantastic pub where they offer the very best food menu along with a great range of real ales and soft drinks. the Wicked Witch in Ryhall is quite famous locally as one of the best eateries around.
As well as lots of corporate clients locally, here at I's Funtime we have also done lots of work for Bourne Town Council events. In order to operate for Bourne Town Council events you do need all insurance documents in place with a minimum liability of £5 million plus all testing certificates and risk assessments. We are extremely pleased that we qualify for or supplying units and entertainment to Bourne Town Council events and look forward to many more in the future.
As well as working in many of the council run venues in Peterborough we've also been the choice for Peterborough City Council run events recently. This includes events in various Peterborough schools, and on Central Park in Peterborough and much more. This is a fairly new partnership which we are looking forward to really flourishing come the new Summer season 2020.