Peterborough Bouncy Castle Rental - Its Funtime!
Posted By: Its Funtime | Posted Date: Monday, April 12, 2021
Peterborough Bouncy Castle Rental
if you've landed on this page looking for bouncy castle rental in Peterborough please do follow the link to our home page where you can see all the bouncy castles available for hire in Peterborough, Spalding, Bourne and surrounding areas. Today, we are going to be discussing with you the reasons why you should book with us here at It's Funtime for your next bouncy castle party. Contrary to many people's opinions, not all bouncy castle companies are equal and today we're going to be highlighting exactly what makes us different from everybody else.
It's been a busy couple of weeks with bouncy castle hire in Peterborough, Bourne and Spalding, with the restrictions lifting a little, people are very keen to hire a bouncy castle for their back garden - something to entertain the children and put smile on their faces after such a long period of lockdown.
It was about 10 a.m. on Saturday morning when we got a phone call from a panicking lady, she had a bouncy castle booked with another company who had refused to deliver the inflatable . We never really got to the bottom of what the problem was, as we found no issue with the access, for garden itself was plenty large enough, the lady was very polite and reasonable so we really don't know what the problem was with the original booking . However we got the phone call at 10 a.m. on Saturday from the lady who had been let down by another company and was desperately trying to find a bouncy castle to hire for the day. The party was set to start in 2 hours, so with little time to lose, we finish the delivery that we are on and immediately ran by our unit to collect another bouncy castle. The lady chose our Jungle theme A frame bouncy castle which is ideal as the roof provides the sunshade but also a shower cover in case of light rain and fit the garden perfectly.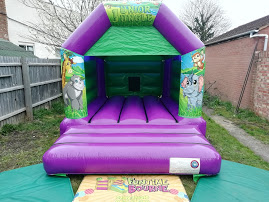 Needless to say, after she was worried that there was going to be no bouncy castle at all, she was absolutely delighted to get a nearly new bouncy castle which look stunning in her garden set up in time for her guests to arrive. It was a little bit close on time but we made it!
We do often find that the people who are sometimes the most appreciative, are the people have been let down by other companies and on this occasion it was no different. Pandu promptly left us a lovely feedback

"The most friendly and helpful people have ever encountered. I had a cancellation 2 hours before my child's birthday party. Worried and disappointed I called everybody bouncy castle company possible, Helen picked up the phone. I told her what had happened and how I'm asking the impossible. She immediately made me feel better. She went out of her way to collect the bouncy castle and come and set up in less than an hour. it didn't take long for them to set it up and my kids had so much fun. The bouncy castle was clean as well. The customer service was amazing and I will definitely book from them again."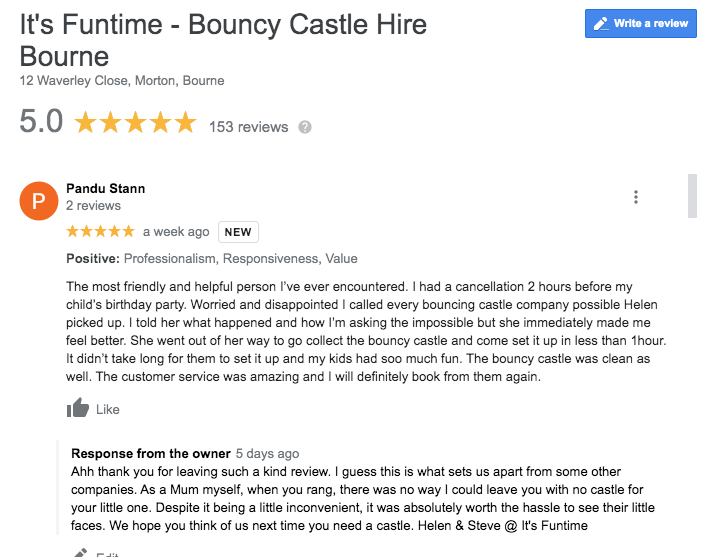 I believe the difference here is that we are genuine family-run company. As a mum myself, I fully understand the panic of ordering a bouncy castle having children due to come to your child's big day, to be then let down by the entertainment at the last minute. There's no way we could leave this lady with no entertainment for her guests. And so even though it was rather inconvenient, we moved heaven and earth to make sure she received the bouncy castle in Peterborough that she wanted. Now you might think this was an isolated unfortunately event, however we receive 3 of these calls, all on the same weekend! Fortunately we were able to help 2 of the 3 customers and found another company to help the third
When dealing with bouncy castle parties day in day out, it can be easy to forget how important they are to people. As you can imagine it is catastrophic if you are planning a party and your main entertainment doesn't come or it comes but they refuse to set it up! This is why we put an absolute priority on customer service, when you book with us we will always check the address in advance to make sure that the items you have booked will fit in your location, that doesn't only mean that your garden is large enough to accommodate the bouncy castle but also that the access is wide enough to allow access to the garden for the size of the bouncy castle that you've booked. This all takes time but it's all part of our customer service and included in the price.
We've also been fortunate enough to have received a couple more 5-star reviews this week, first one is from Anna who had a bouncy castle in Spalding.
"Great choice of equipment for hire always responsive and happy to help. Very punctual and honest. Lovely friendly genuine people who we have used for the last 4 years and will continue to do so. Would never use anyone else."

We've also received another very kind 5-star Google review from PJ Thompson
"Great service and communication, we had a hot tub and it was extremely clean and the setup and dismantle was efficient and thorough. I've already booked another one I would recommend others to do so too.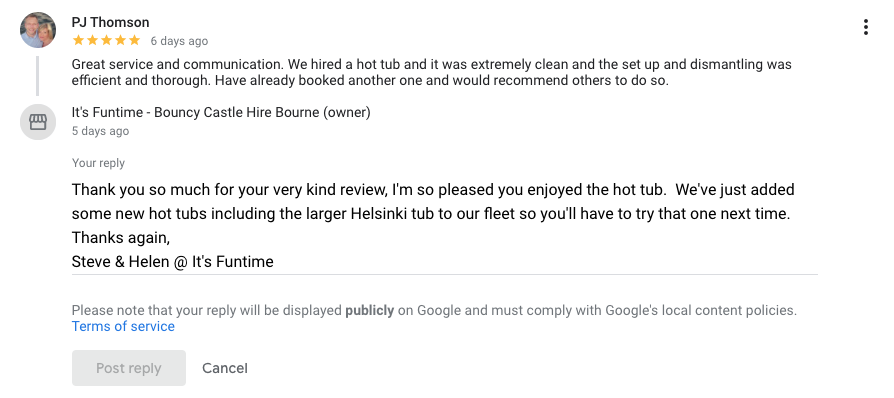 This is what we really love about our customers. Once they have experienced our attention to detail and customer service they never look elsewhere. So next time you are looking for a bouncy castle, soft play or indeed a hot tub for your big day or event please to be very, very careful about who you book with. Please ALWAYS make sure you check the company's Google reviews quite before booking. It might just save your big day.
It's Funtime - A Five Star Rated Google Company