Peterborough Hot Tub Parties
Posted By: Its Funtime | Posted Date: Thursday, May 30, 2019
Peterborough Hot Tub Parties
How to Plan and Have a Unique Party Experience With Friends and Family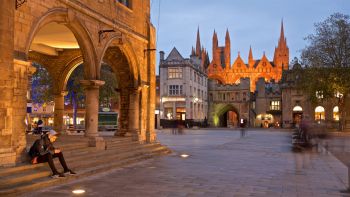 Here at It's Funtime, we are proud to cover areas in 5 counties. From Lincolnshire to areas in Leicestershire, Northamptonshire, Cambrideshire and Rutland, we cover a wide area, but none as dear to us as Peterborough!! Whether you are in Werrington or Stanground, Paston or Woodston or the Ortons we can deliver hot tubs to you! We even cover Yaxley, Farcet and Thorney!! If you want to really wow your friends and family for your birthday party, anniversary party, end of exams party or even just a good all get together and barbecue, a Hot Tub Party is definitely the way to go. Here's how you do it in 5 easy steps:
Step 1: Measure your garden and make sure that you have at least 4m x 4m of level grass with at least 10 foot height clearance.
Step 2: Ensure that you have a hosepipe and hopefully a combi boiler and an indoor tap that we can link in to towards the back of the house (not required, but an indoor water source means we can "warm fill" and get the tub up to temperature quicker to give you even more usage time and better value!!)
Step 3: Make sure you have a dedicated electrical source within 25 m of the desired set up location. (the tub must be left on and running for the whole hire period)
Step 4: Make sure there is adequate drainage for when it comes time to empty the tub. We always send the water back for treatment and not just dump into the environment! All it takes is a service point cover or open down pipe from the gutters or kitchen drain.
Step 5: Contact us and get booked in!!!
A Hot Tub Party will make you the envy of all of your friends!! It truly is a fantastic experience! Just check out the video to see what you're going to get!!