Showcase Cinema De Luxe Peterborough
Posted By: Its Funtime | Posted Date: Tuesday, December 24, 2019
Showcase Cinema De Luxe Peterborough
Showcase Cinema de Lux Peterborough
Mallory Road
Boon Gate
Peterborough
Cambridgeshire
PE1 5AH
Tel: 0871 220 1000
It was a very exciting day almost exactly a year ago that the rather old and tatty Showcase Cinema on Boongate in Peterborough closed down for refurbishment. I honestly think though, none of us anticipated just how fantastic the new refit would be.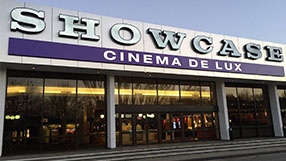 The new Showcase Cinema Deluxe doesn't only offer a huge range of the newest films, but they have several 3D screens and the most amazing recliner seating as standard. The fully air conditioned cinema sporting Sony 4K projection technology even allows you take your own food and drinks in (cold only), so no need to feel bad about saving some pennies!
Showcase Cinema Deluxe in Peterborough has a huge free car park for patrons and offer a range of special screenings including subtitled screenings for the hard of hearing, an autism friendly screening every second Sunday of the month and even a kids club. What's more, you can save yet more pennies if you can visit during the "off peak hours" when tickets are almost 20% cheaper.
So next time it's a rainy day and you're looking for something affordable to entertain the kids for a few hours, be sure to pay Showcase Cinema Deluxe a visit!