Spalding Bouncy Castle Parties Today
Posted By: Its Funtime | Posted Date: Saturday, December 28, 2019
Spalding Bouncy Castle Parties Today
If you're looking for bouncy castle party hire Spalding, you've come to the right place! Yes it might be the weekend between Christmas and New Year, but we've been out, fully booked today, with bouncy castle party hires in and around Spalding!
Bouncy Castle Party At Donington Community Centre
Situated on Town Dam Lane in Donington, the Donington Community Centre is a fantastic, large venue. Perfect for childrens birthday parties. These particular customers hired our Disco Dome Party package with the disco dome bouncy castle, wiggle cars and space hoppers and boy did they have a blast! What they didn't tell us was that Dad was a DJ in his day so they had some cracking tunes playing via the bluetooth speaker! We do always supply an Ipod pre-loaded with party music in case you don't have anything suitable, but like this family, you are more than welcome to use your own devices to stream your choice of music through the powerful sound system.
Bouncy Castle Party At Crowland British Legion Near Spalding
Next up was a quick skip over to The British Legion Hall in Crowland. We are extremely pleased to say we are the only recommended supplier for bouncy castles in this hall. Crowland British Legion is a very nice hall and they are a little picky about who supplies equipment there as they like to keep it nice. As you can see, our lovely superheroes bounce and slide castle looked fabulous. This was for a 5th birthday party which is the perfect age for this particular bouncy castle. Our low height bouncy castles (which this is) are suitable up to age 8.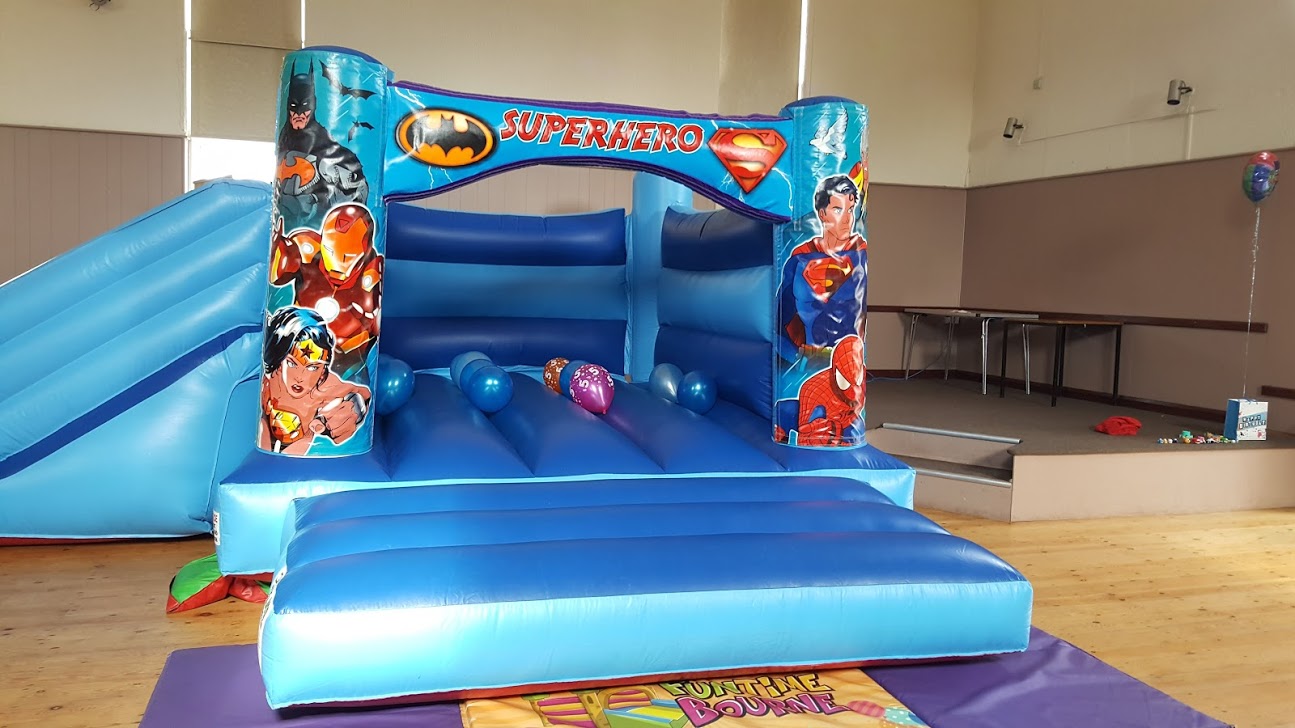 Bouncy Castle Party At Cowbit Village Hall
The final stop of the day for this van was Cowbit Village Hall. This particular customer booked our amazing Pups bouncy and slide bouncy castle with an additional magic ball pool. This is always a very popular combination as the bouncy castle is perfect for the slightly bigger kids whilst the ball pool gives a nice safe area for the babies and younger toddlers. This package fits absolutely perfectly in Cowbit Village Hall and we have lots of bouncy castles which do fit in this fabulous venue, but if you've booked Cowbit Village Hall for your next celebration you do need to make sure you look in our low height bouncy castle section.
As you can see, our time of for Christmas is well and truly over and we're officially back on it. We are already looking quiet busy for the first few months of 2020, so if you are planning a celebration in the coming months, please do make sure you book asap to guarantee your first choice of equipment.