Spalding Pumpkin Festival
Posted By: Its Funtime | Posted Date: Tuesday, October 15, 2019
Spalding Pumpkin Festival
Lat weekend it was our annual tradition of taking a trip to the Spalding Pumpkin Festival on Friday the 11th October. The festival is a fantastic celebration of local horticulture and harvest. Every year the event takes place in Spalding town centre and includes a market with a mix of stalls from local producers, charity stalls and lots of entertainment throughout the day and evening including street entertainment, arts and crafts activities, carved pumpkin displays and face painting.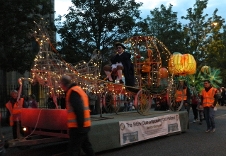 In the evening there are lots of activities to keep your little ones entertained including a fancy dress competition and live entertainment from the likes of Revolver, Zebra and many more.
The pumpkin parade begins at 6:30 p.m. If you haven't seen the pumpkin parade before it is a fantastic little procession of all the children dressed up leading through the town which ends in the town centre at 7:30 p.m. where there is a huge firework display set to music.
The Spalding pumpkin festival is sponsored by David bowman pumpkins limited and is supported by the Rotary club of Spalding and Welland. So if you're looking for a fab autumnal evening out consider Spalding pumpkin festival.