The Spinney Little Bytham
Posted By: Its Funtime | Posted Date: Thursday, January 23, 2020
The Spinney Little Bytham
Here at It's Funtime Bouncy Castle Hire you'll mostly find us at weekends out putting out a fantastic bouncy castle parties in and around Bourne. However when we do get some time off our Little Funtime Munchkins love nothing more than a trip to The Spinney in Little Bytham. The Spinney is a fantastic community woodland play space in the rural village of Little Bytham which both adults and children can visit 365 days a year. It's a fantastic setting where children can run wild in the woods. There is absolutely no entry charge and all activities including car parking is free. The Spinney is situated on Creeton Road in the village of Little Bytham in South Lincolnshire.
The Spinney site covers approximately 5.5 acres and comprises of a combination of open fields and woodlands space and is managed by the by The Woodland Trust.
The Spinney boasts a fantastic toddler play area separated from the rest of the play area and fully enclosed to keep your little one safe. However the main area has some fantastic attractions that you don't see that most play parks including a giant spider web, rickety bridges, a huge slide cut into the hillside and much more.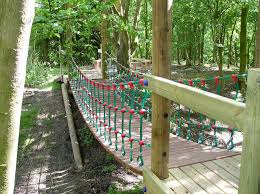 Another lovely aspect of The Spinney in Little Bytham is the fantastic barbecue areas. This means you can take down your own barbecue equipment and food and spend the day at The Spinney eating smores!

if you're little one is a bit of a train buff, the other great news is that the trains travelling along the East Coast main line run right next to the Spinney Playpark. Obviously at a safe distance and fenced to prevent access, but the Spinney provides a great vantage point for any budding train spotters!
There are also lots of extra activities held in the Spinney including near the Christmas time their annual tree dressing celebration! So if you're looking for something to do that won't break the bank and the kids will have a blast take a look at The Spinney in Little Bytham.