2o Blue Pups Bounce And Slide Bouncy Castle Combo
Specifications
Availability
Reviews
| Specification | Details |
| --- | --- |
| Product Size In Feet (W x L x H) | 19ft x 16ft x 8ft |
| Required Space In Feet (W x L x H) | 25ft x 25ft x 9ft |
| User Age | Under 10s |
| Suitable For | Real grass or indoor hall. |
| PLEASE NOTE | We cannot set up any bouncy castles on concrete, decking, artificial grass, patio or gravel as it is unsafe. |
Leanne Ulyatt
Such a lovely customer! Leanne hired our amazing hot tub / spa party package for her daughter and husbands birthdays. Sounds like they had an amazing time and Leanee has been singing our praises ever since. Here at It's Funtime we really do feel incredibly blessed to have such lovely customers. Here's what Leanne had to say about her hire.................... "Thankyou to you both for the wonderful hot tub package for my husband's 30th birthday weekend and also my daughter's 8th birthday party! Came home to it all set up and ready to go and even better Steve came round the night before to talk through it all! The hot tub came with a tent, sound system and lights inside the tub! It was fab. Hot, clean and a really nice treat! My daughter had a fantastic party and my husband was very surprised with the reaction of " erm there's a hot tub in my garden" It was cleared away promptly and I had a small filter blip to which Helen came straight out and and checked it all out! Both very friendly and professional and I wouldn't hesitate to recommend them or use them again!!! Thanks so much!!!!"
Katie Barwell
Katie had been let down by another company and came to us in a panic that her daughters birthday party would be ruined. We booked her in for an ultimate party package with the party time bouncy and slide bouncy castle and candy floss cart. Katie was sooo happy that her party was a huge success and has since become a regular customer at Funtime Bourne. Thanks for your custom Katie!.................... "Fun time are amazing!! Excellent party package with outstanding customer service. Can't recommend highly enough."
Corrina Jayne
The lovely Corinna has become a regular customer at Funtime Bourne. Firstly for a birthday party and more recently for her baby shower! We really are lucky to have such lovely customers. Corinna ordered a bespoke party including our inflatable magic ball pool, sound system and didi cars to keep the children well entertained at her recent baby shower celebration. "Fabulous service from start to finish will be using again in the near future
Jay Saywell
A glowing review from Jay today. Jay hired our hot tub party package in Bourne for the October half term holidays and the kids loved it! :-) "We hired out the hot tub for a long hire over the half term. Fantastic service, lovely people and everything was done and set up ready to go in a few hours. Highly recommend this hire for any occasion. Thankyou again and will definitely be using again"
Kirsty Russon
A lovely review from one of our first ever customers! Kirsty had ordered our piggy bouncy castle with soft play for her little mans party. Pleased to say Kirsty has become a regular customer at Funtime Bourne............................. "Used Fun Time today for my 3 year olds party. What can I say? Fab prices and product plus drop off and collections were at the advised times. Brilliant way to run a business"
Back To Bounce And Slide Castles
Blue Pups Combo Bounce and Slide Bouncy Castle
No job's too big, no pup's too small, we'll be there on the double! It's Fun Time are proudly introducing the pups bounce and slide bouncy castle. A firm favourite with all of our little ones they can now party with Marshall, Rubble, Chase, Rocky, Zuma and Sky all decorating this beautiful bounce and slide bouncy castle. Featuring amazing laser-printed artwork the quality of this castle is there for everyone to see, and is sure to be a showstopper at your event.
Featuring our special low height design of only 8 foot, this bouncy castle for hire in Bourne will fit in most local halls including Edenham Village Hall and Bourne Abbey Church Hall. If you are unsure as to whether this bouncy castle will fit in your chosen hall please do feel free to contact us and we should be able to advise.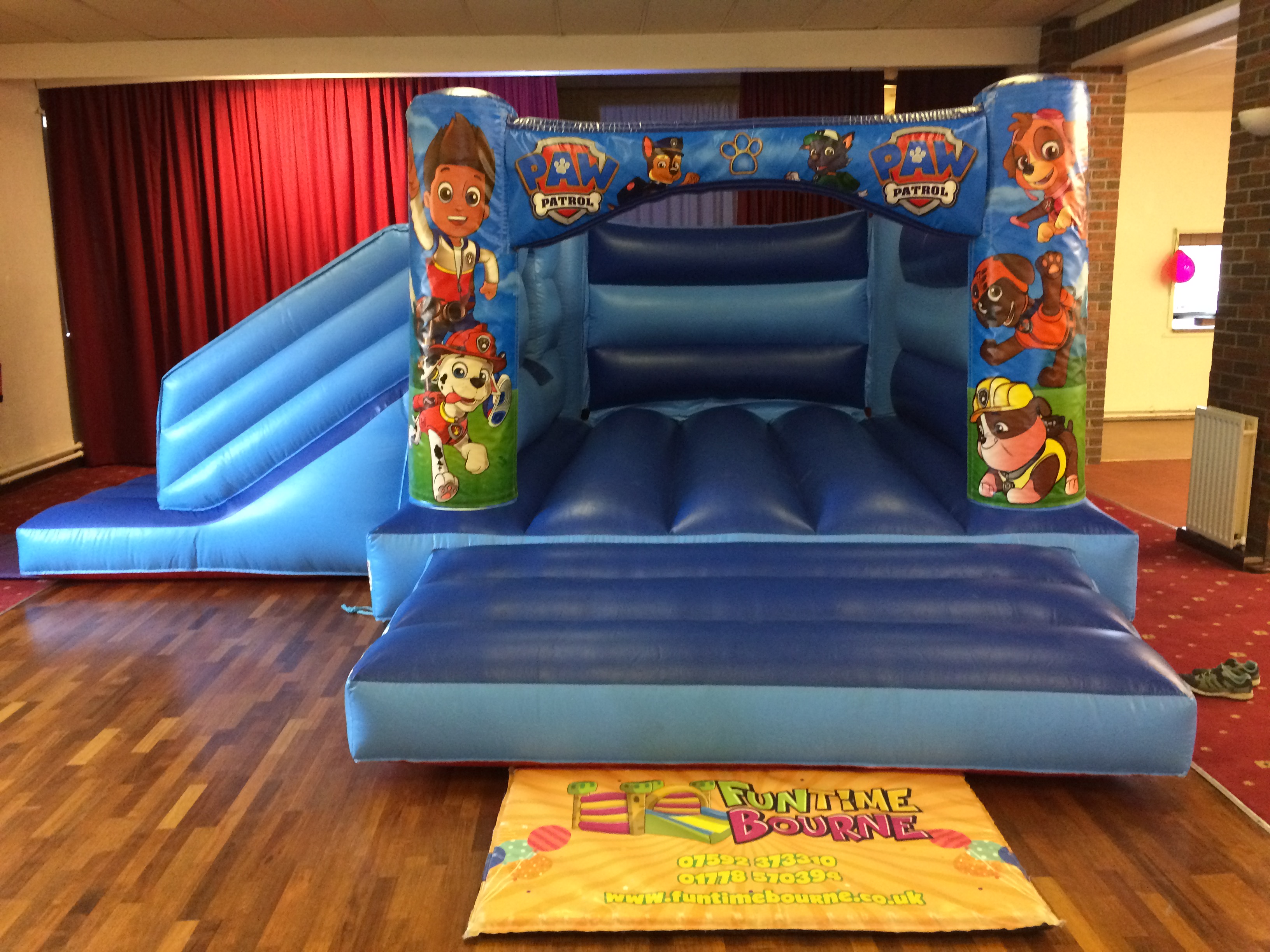 Why not add this Blue Pups Combo Bounce and Slide Bouncy Castle to one of our amazing party packages or soft play parties to make a party to remember?
For your convenience, we are now pleased to offer professionally made party bags and sweet cones from only £1 each! At that price it's surely a "no-brainer"?
Should you wish to book our Blue Pups Combo Bouncy Castle, you can do so online 24/7 or:
Call us on: 01778 570394
Mobile / text: 07592 373310
Email us: funtime.bourne@gmail.com
Like us on Facebook
Our office is open 7 days a week from 9am until 9pm, so please don't hesitate to contact us for any bouncy castle hire information you may need.