3h Aqua Barbie Hframe
Specifications
Availability
Reviews
| Specification | Details |
| --- | --- |
| Product Size In Feet (L x W x H) | 15ft X 12ft X 8ft |
| Product Size In Metres (L x W x H) | 4.6m x 3.7m x 2.5m |
| Required Space In Feet (L x W x H) | 23ft x 18ft x 8.5ft |
| Required Space In Metres (L x W x H) | 7m x 5.5m x 2.6m |
| Suitable For: | Children Only |
| User Age: | Under 9s |
| Safety Test Expiry | May 2021 |
Cecillia Monroe
100% recommend! I've hired bouncy castles and soft play for my children's parties, excellent value for money, all equipment was delivered clean and on time, wouldn't go anywhere else now. Thank you for an amazing service!
Zoe
Very impressed. Arrived at promised time. Lovely and friendly. Will be using them again. Keep up the great work. :)
Nicky Prentice
We had a bouncy castle and the under 5s soft play for our daughters first birthday, it was a massive hit and everyone loved it! Fantastic service and equipment! Would defo use them again and recommend them to anyone looking for this for a party, thankyou so much guys all the children had a fab time and slept well after having fun with your equipment
Charley Myra Pick
Charley booked our ultimate party package for her daughters birthday party. She chose the princess deluxe bouncy castle and added sweetie cones too. The ultimate party package does a great job of entertaining 25-30 children so ideal for full class party! Thanks for choosing Funtime Bourne Charley....................... "We used Fun Time for my daughters 4th birthday back in December and they were fantastic. A great package that included sweetie cones... The children were well entertained for several hours... can't recommend this lovely family business enough"
Kelly Bell
Kelly hired our Party Time Deluxe bouncy castle for her party at Northborough Village Hall. Don't forget, our bouncy castles are available for hire in Bourne and all the surrounding towns and villages! "Fantastic service. Very pleased with the bouncy castle. Highly recommend"
Back To Bouncy Castle Hire
Beautiful Barbie Themed Bouncy Castle For Hire In Peterborough, Bourne, Spalding, Sleaford, Grantham And Surrounding Areas.
Is your little one Barbie mad? If so our brightly coloured Barbie bouncy castle is the perfect choice for you. Party with Barbie and all her friends on this bright and colourful bouncy castle.Dimensions
11ft X 15ft X 8ft
3.3m X 4.9m X 2.44m
Suitable for age 8 and under
Why not add this Barbie bouncy castle to one of our amazing party packages or soft play parties to make a party to remember?
For your convenience, we are now pleased to offer professionally made party bags and sweet cones from only £1 each! At that price it's surely a "no-brainer"?
Should you wish to book our fabulous Barbie bouncy castle, you can do so online 24/7 or:
Call us on: 01778 570394
Mobile / text: 07592 373310
Email us: funtime.bourne@gmail.com
Like us on Facebook
Our office is open 7 days a week from 9am until 9pm, so please don't hesitate to contact us for any information you may need.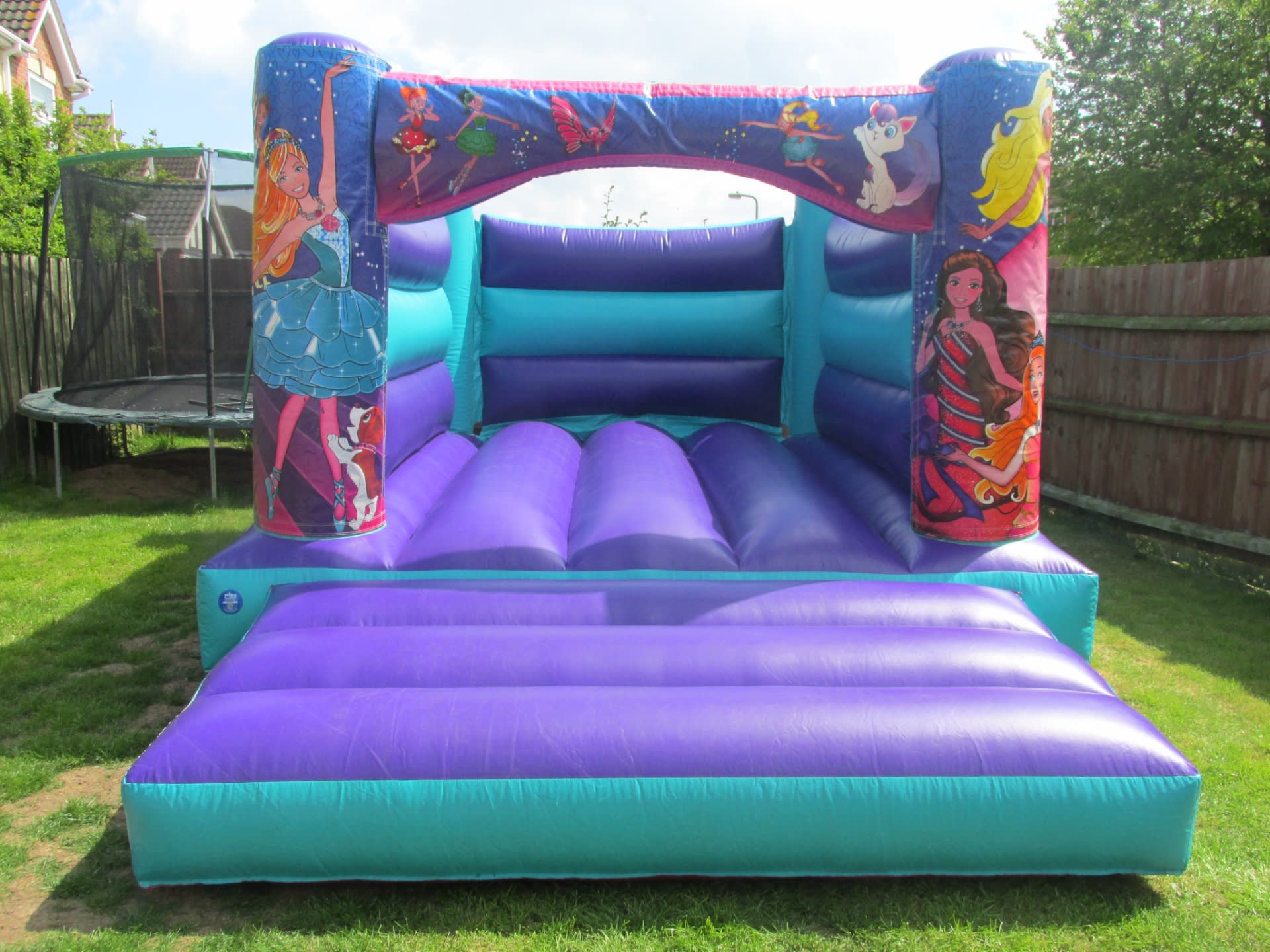 AQUA BARBIE HFRAME