For bookings and enquiries - call us today!!
| Specification | Details |
| --- | --- |
| Product Size In Feet (L x W x H) | 15ft x 19t x 8ft |
| Product Size In Metres (L x W x H) | 4.5m x 5.8m x 2.5m |
| Required Space In Feet (L x W x H) | 25ft x 27ft x 8.5ft |
| Required Space In Metres (L x W x H) | 7.6m x 8.3m x 2.6m |
| Suitable For: | Children |
| User Age: | 9 And Under |
| Safety Test Expiry | May 2020 |
Such a lovely customer! Leanne hired our amazing hot tub / spa party package for her daughter and husbands birthdays. Sounds like they had an amazing time and Leanee has been singing our praises ever since. Here at It's Funtime we really do feel incredibly blessed to have such lovely customers. Here's what Leanne had to say about her hire...................."Thankyou to you both for the wonderful hot tub package for my husband's 30th birthday weekend and also my daughter's 8th birthday party!Came home to it all set up and ready to go and even better Steve came round the night before to talk through it all! The hot tub came with a tent, sound system and lights inside the tub! It was fab. Hot, clean and a really nice treat!My daughter had a fantastic party and my husband was very surprised with the reaction of " erm there's a hot tub in my garden"It was cleared away promptly and I had a small filter blip to which Helen came straight out and and checked it all out! Both very friendly and professional and I wouldn't hesitate to recommend them or use them again!!!Thanks so much!!!!"
Laura booked our ultimate party package with the Peppa bounce and slide bouncy castle. She really loved the party, and the kiddies all had a blast!"Thank you very much providing the entertainment for my daughters 4th birthday, highly recommend!"
Another really treasured review. This one is from Nikki who runs one of our local halls and a local playgroup. Nikki knows how nice our equipment is and how clean we keep it and always recommends us to potential customers. The playgroup have become very regular customers and have hired lots of different equipment including the soft play party, tots activity castle and pups bouncy and slide bouncy castle. Thanks Nikki! x............... "Absolutely fantastic company. Reliable, friendly, easy to book and pay. Clean and well kept castles and soft toys. Hassle free booking. Highly recommended to all."
Highly recommend fantastic party package fantastic prices and lovely couple :) thank u x
Rachel was one of our first ever customers! She booked our ultimate party package with the superheroes deluxe bouncy castle and ride on didi cars. Thanks Rachel for booking with us at Funtime Bourne!........................ "Highly recommended, had them for my son's sixth birthday party. Fab bouncy castles and ride on cars, the kids all loved it. Lovely people too"
Book Now!
Product Description
Blue Marvel Combo Bounce and Slide Boundy Castle
I can't name all the superheros found on our fantastic Marvel bounce and slide bouncy castle but I bet your little ones can? The vivid artwork used on our Marvel superhero bounce and slide bouncy castle includes Superman, the Hulk, Spiderman and Ironman as well as wonder woman for the super-girls! Alternatively we do have a second Heroes themed bouncy castle which you may prefer? We just love them both!
The Marvel superheroes bounce and slide bouncy castle is one of our special "low height" bouncy castles at just 8 foot high so fits in most local venues and gardens. The slide feature of the bouncy castle offers great play value and will keep the children entertained for hours. This bouncy castle is a great choice for birthday party hires, school fete's and charity fund - raisers. Indoor and outdoor hire (weather permitting) is also possible and as with all of our products, this bouncy castle is available for hire in Bourne and the surrounding areas.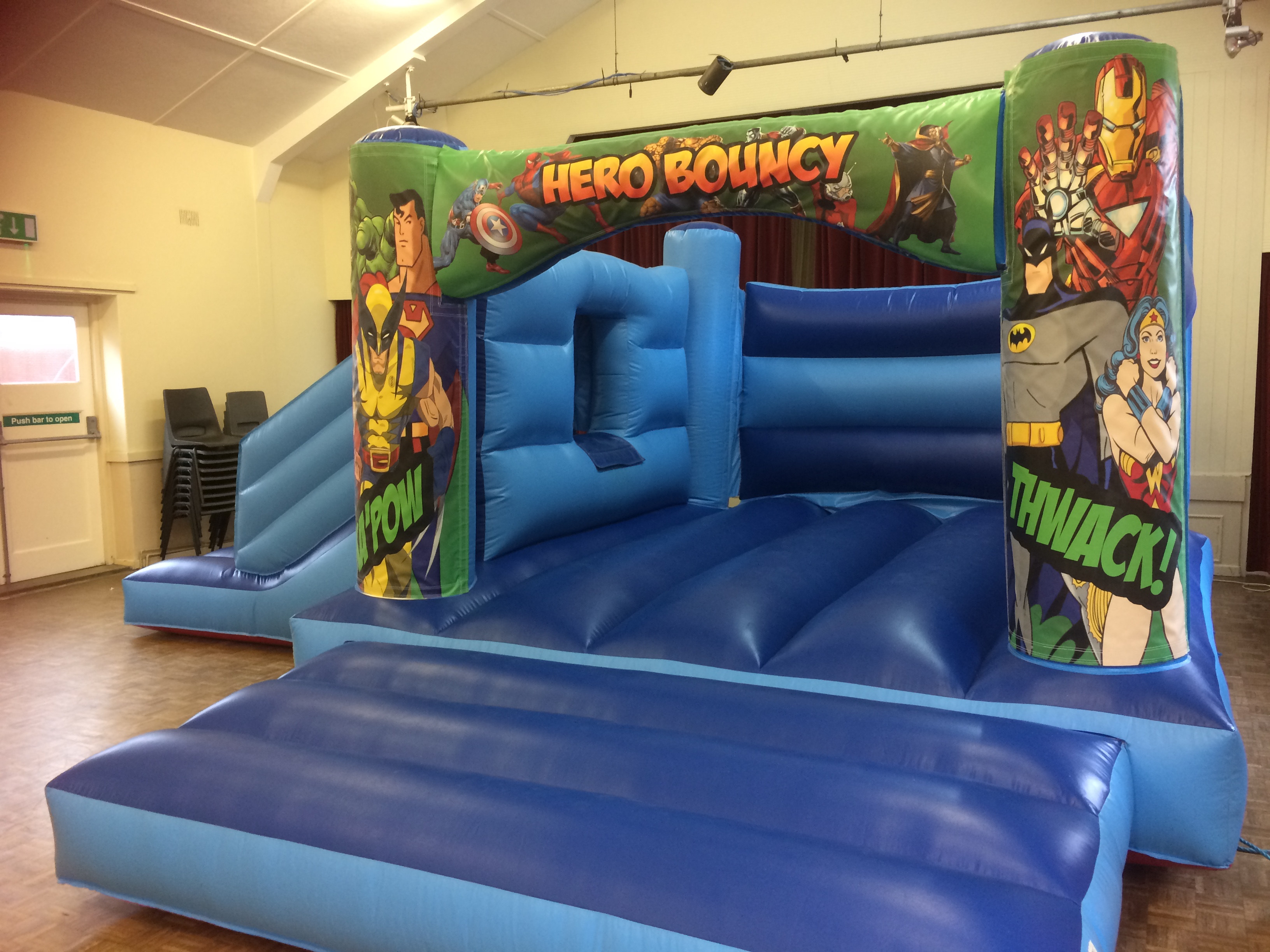 Dimensions
15ft x 19ft x 8ft
4.5m x 5.8m x2.5m
Suitable for age 9 and under


Why not add this Blue Marvel Combo Castle to one of our amazing party packages or soft play parties to make a party to remember?
For your convenience, we are now pleased to offer professionally made party bags and sweet cones from only £1 each! At that price it's surely a "no-brainer"?
Should you wish to book our Blue Marvel Combo Bouncy Castle, you can do so online 24/7 or:
Call us on: 01778 570394
Mobile / text: 07592 373310
Email us: funtime.bourne@gmail.com
Like us on Facebook
Our office is open 7 days a week from 9am until 9pm, so please don't hesitate to contact us for any information you may need.