Surfleet Village Hall Spalding
No specifications has been set for this product. Please contact us for further details.
Rachel Parkin
Rachel ordered our "Big Daddy" bouncy castle for her event at Great Casterton Primary school. The school were really pleased with the bouncy castle we provided and our attention to safety aspects of the hire too and have become regular customers. "Lovely people, arrived on time, with new and clean inflatables. I would recommend them !"
Niall Gilligan
Great prices & service with a professional friendly attitude to there customers. Niall & Megan.
Ann Rivers
Another fab review, this time from Ann Rivers. Ann booked our ultimate bouncy castle party in Bourne with the princess bouncy castle and added the candy floss cart. Again Ann thought the candy floss cart really gave her party the "wow factor".................... "Great service, very friendly. Everyone especially loved the candy floss. Definitely recommend."
Emma Regis
Very reasonably priced, great products, lovely and friendly service. Would definitely recommend
Katie Gibson
Anther lovely review from a local lady. Katie has hired from us on multiple occasions, everything from our disco dome party package to ultimate party packages and stand alone bouncy castles in Bourne. We really are the best around when it comes to bouncy castles hire in Bourne! ..................... "I have used these guys for the past few years. They have always been upfront with cost and even helped me out massively with their knowledge of local halls which would hold a bouncy castle and how much they charge! They are always on time even when it's a very tight time slot. And most importantly of all the customer service is fantastic. Always very friendly and chatty but whilst getting on with their job. Could not recommend them enough if I'm honest!"
Back To Venues For Hire
Surfleet Village Hall Hire, Spalding
Surfleet Village Hall,
Station Road,
Surfleet,
Spalding
A fantastic venue just outside the market town of Spalding, Surfleet Village Hall is modern, spacious, light and very large. It would make a fantastic venue for any birthday party, Christening celebration or Wedding reception.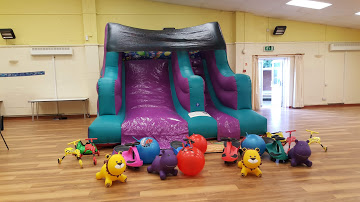 Complete with modern kitchen facilities, a large car park and easy access, Surfleet Village Hall is one of the best venues in the Spalding area.
What's more, due to the large floor-plan and high ceiling, you can pick absolutely any of our products for your party in Surfleet Hall. This includes our disco domes, A-frame bouncy castles, toddler activity bouncy castles and all of our soft play parties. With Surfleet Village Hall, you are completely unrestricted.
As always, to book this hall, you need to contact them directly (details above) however if you need any advice on what equipment would be best for your party, please feel free to give us a ring on 07592 373310 / 01778 570394 or contact us online.