Wittering Parish Hall Hire
No specifications has been set for this product. Please contact us for further details.
Shani Bates
Shani ordered our soft play party for her birthday party in Bourne. It went down a storm with the little (and not quite so little) ones! Bouncy castle hire in Bourne............... "We would definitely recommend these to everyone. We used them last week for our sons christening and they were excellent and brilliant. We would definitely be using them again. Thank you so much! The children had amazing time with all the soft play and the ride alongs. Xx"
Jo Challinor
Jo ordered our ultimate party package with the princesses bouncy castle for her party in Bourne. Here's what Jo had to say................ "Had fantastic 4th Birthday party for my daughter thanks to Funtime Bourne.... great range of bouncy castles to choose from and really loved the additional toys we hired - the Diddy cars were a real hit! The ultimate party package wasn't cheap but it did mean we could just sit back and let the children enjoy themselves.... just need to get them to do the catering as well next time and we're sorted! Would definitely recommend- Helen was brilliant- thank you!
Melissa Ashton
Melissa hired our soft play party with the turtles deluxe bouncy castle and magic ball pool for her little mans' party in Bourne. She was really pleased with the condition and cleanliness of the equipment.................. "Highly recommend these guys. Hugely efficient and friendly. Equipment is all clean and clearly well looked after."
Katie Doran
We used Its funtime bouncy castle hire for our daughters 3rd Birthday and were incredibly impressed with the service. From start to finish they were helpful and friendly. We hired one if their small bouncy castles and all the children loved it! Highly recommend!!
Susan Mangham
Had a party today my for 3 year old son. Helen and Steve were lovely from first booking to taking the soft play away today. The kids loved every minute and my son wanted to keep the little car roller coaster and claimed it as his. Will be booking again next year!!
Back To Venues For Hire
Wittering Parish Hall Hire
Wittering Parish Hall
Townsend Rd,
Wittering,
Peterborough.
PE8 6BD
Wittering Parish Hall is a fabulous little venue nestled in the village of Wittering near Peterborough. The Parish Hall boasts a large hall area, good kitchen facilities, easy disabled access and access to a great playing field too!
Aa a Parish Hall, there are hefty discounts for residents of the village of Wittering when hiring this hall. At the time of writing, it costs £15 per hour for village residents and £30 per hour for non-residents.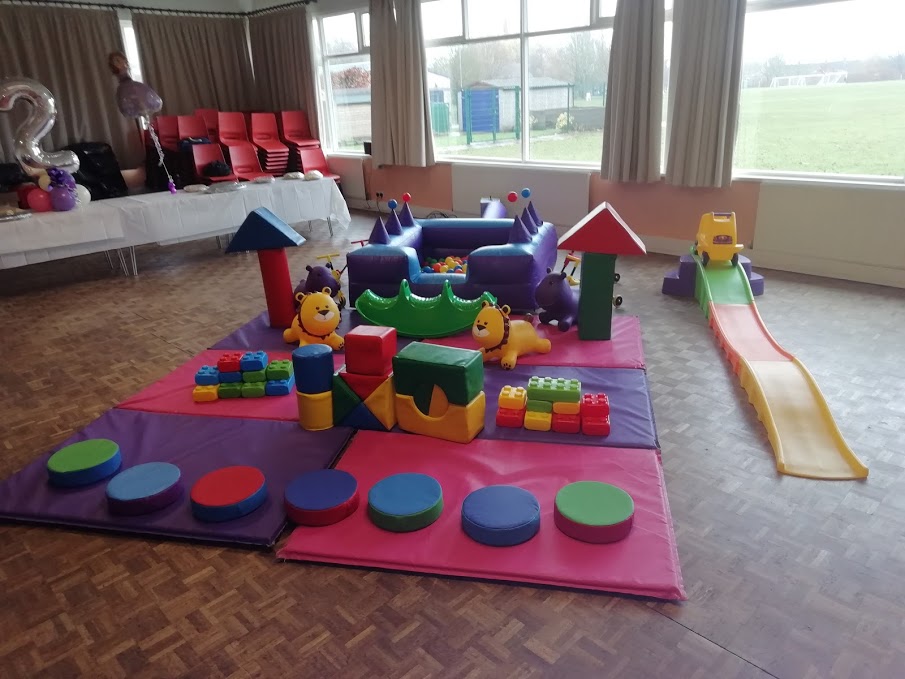 A lovely sized hall with a nice big car park, you can fit any of our soft play parties in this hall. If you want a bouncy castle indoors at Wittering Parish Hall, you will need to choose a special low height bouncy castles, but you can always have some toys inside and the bouncy castle outside and in that instance you're completely unrestricted on your choice of bouncy castle.
As with all of the halls in our venue directory, you need to get in touch with the hall caretaker to check availability and book this hall, but if you need any further guidance on what to book for your party, please feel free to give us a ring on 07592 373310 or drop us an email.