Bouncy Castle Hires In Hampton, Peterborough.
Posted By: Its Funtime | Posted Date: Tuesday, September 17, 2019
Bouncy Castle Hires In Peterborough

Wow, it's been a busy few weeks here at It's Funtime! We've particularly seen a rise in our bouncy castle hire bookings in Peterbororough. Yes, that's right! For a nominal delivery charge you can have any of our fantastic bouncy castles delivered to your party in Peterborough.
We cover most areas of Peterborough including Dogsthorpe, Bretton, The Ortons, Yaxley, Werrington and Glinton. Below you can see a picture of our fantastic disco A Frame bouncy castleout on hire in Peterbororough.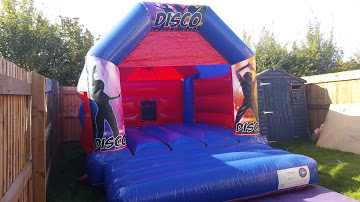 We are one of the few companies in Peterborough to have ALL of our inflatables fully safety tested by independent testers and full, comprehensive insurance to guarantee your safety. Should you have any questions, please do get in touch as we are more than happy to supply our safety certificates and insurance documents for your peace of mind.
We often get asked "how far in advance do I need to book my party". Well the honest answer is as soon as possible. Obviously we are limited in stock and delivery slots and once an inflatable is booked it is reserved for that customer. On occasion you can get lucky and choose your first choice bouncy castle on a last minute booking, but more often than not, the choice will be a little limited if you are looking to book at date with a couple of weeks.
Don't forget, we don't only offer bouncy castle hire, we also offer soft play hire in Peterborough and also hot tub hire! Throughout the winter our most popular items are our party packages. These are normally booked for hall parties and generally include a bouncy castle of your choice and then a selection of other items including ball pools, didi cars, mini discos and much more!
So if you're looking to book a bouncy castle party in Peterborough in the near future, please do take a look around our online catalogue to find your perfect party. You can book any time of the day or night using our fabulous online booking system, but if you prefer you can always give us a ring or email usto book.