Spalding Disco Bouncy Castle Hire
Posted By: Its Funtime | Posted Date: Wednesday, July 31, 2019
Spalding Disco Bouncy Castle Hire
Are you looking for a disco bouncy castle to hire in Spalding? If so you've come to the right place. Here at It's Funtime we are really pleased to have just taken delivery of 3 new disco bouncy castles including a disco bounce and slide all available to hire immediately. The good thing about booking a brand new bouncy castle isn't just that you get a brand spanking new castle but the diary is currently fairly open for these classes as we never take bookings for bouncy castles until we actually received them. So if you are looking for a popular date and struggle for availability please do check out our brand new disco bouncy castles. You might get lucky!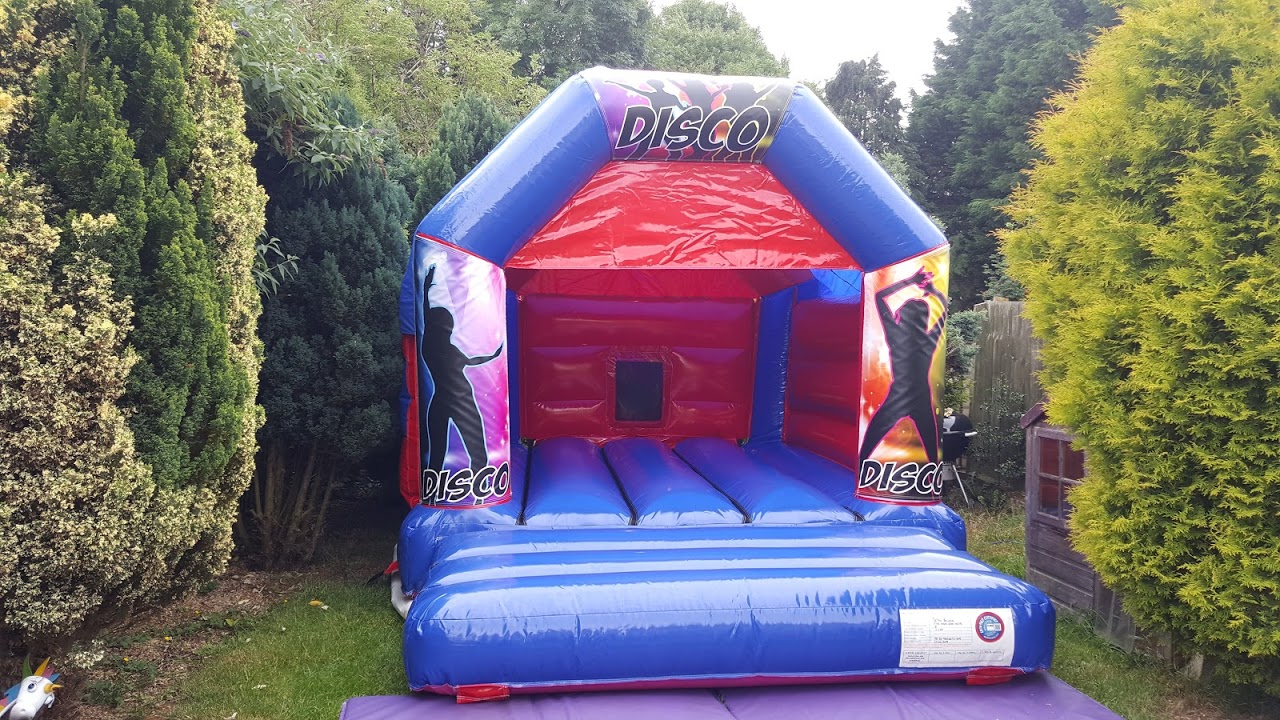 If you haven't seen one of our amazing disco bouncy castles out on hire anywhere before, here is the low down on what you get. Firstly we have our disco A Frame bouncy castles. These are like your traditional bouncy castles made from top quality materials and British built but they boast a disco light in the roof and a sound system in the back which runs on Bluetooth so you can stream all your favourite tunes through the the bouncy castle. This particularly appeals to older children who are looking for a bouncy castle party in Spalding but don't want anything babyish. Our disco bouncy castles are available in red and blue or green and purple with a huge variety of themes. And don't forget we have a huge amount of removable themes including Superheroes, Princesses, Fortnite and LOL Surprise to name just a few.
The second option for our disco bouncy castles for hire in Spalding is the disco bounce and slide bouncy castle. Again in glossy material, British built from the highest quality materials, this purple and blue castle is available with various artwork themes and again has the disco light in the top and sound system in the back running on Bluetooth. Older children have as much fun operating the sound system through the castle as they do actually bouncing but you can never be too old for one of our fabulous disco bouncy castles. Again this disco bounce and slide bouncy castle is available to hire with jungle theme, disco theme, unisex balloons theme, or PJ masks!


The last option for disco bouncy castles is the classic disco dome. This is a blacked out bouncy castle again in gloss material but a circular design. This has the disco light in the top and the sound system in the back and is great for slightly older children again. This disco dome is suitable for children up to age 16 and is great fun for everybody.
As with all of our bouncy castles, you can book a fabulous disco bouncy castle any time of the day using our fantastic online booking system free of charge. Alternatively should you want a more personal service please do feel free to drop us an email or give us a ring on 07592 373310 and we can talk you through the whole process. Our fantastic disco bouncy castles are available for hire in Spalding itself and in all of the surrounding villages including Pinchbeck, Moulton, Donington, Quadring and Westen, although delivery charges to apply to some areas. Disco bouncy castles are available for hire for garden parties however they do need to be situated on grass or in village halls. if you are looking for a hall to hire in Spalding and you don't know where to go, please do drop us a message and we may be able to help with recommending local halls where bouncy castles will fit.
So why wait? Browse our online catalogue of disco bouncy castles now and select your preferred bouncy castle and get it booked!