2b Tots Balloons Castle
Specifications
Availability
Reviews
| Specification | Details |
| --- | --- |
| Product Size In Feet (L x W x H) | 12ft x 12ft x 8.5ft |
| Product Size In Metres (L x W x H) | 3.7m x 3.7m x 2.6m |
| Required Space In Feet (L x W x H) | 18ft x 18ft x 9ft |
| Required Space In Metres (L x W x H) | 5.5m x 5.5m x 2.8m |
| Suitable For: | Children Only |
| User Age: | Under 8s |
| Safety Test Expiry | May 2021 |
Mirka Pittnerova
Omg what a fantastic company :-) my sister hired them for her sons birthday party and they have done absolutely fantastic job!!! Beautiful. Thank you xxx
Becca Musson
Helpful, polite, fantastic service and made sure my son had a wonderful party. An absolute pleasure from start to finish - utterly faultless. Would highly recommend to anyone and would use again in a heartbeat.
Katie Barwell
Katie had been let down by another company and came to us in a panic that her daughters birthday party would be ruined. We booked her in for an ultimate party package with the party time bouncy and slide bouncy castle and candy floss cart. Katie was sooo happy that her party was a huge success and has since become a regular customer at Funtime Bourne. Thanks for your custom Katie!.................... "Fun time are amazing!! Excellent party package with outstanding customer service. Can't recommend highly enough."
Becca Wilson
Becca ordered our soft play party with the superheroes deluxe bouncy castle for her party in Bourne. The kids had an awesome time and Becca was really pleased with the equipment she received. Another happy customer!................. "We hired the soft play and a castle for daughters 1st party. Everything was fab, super clean and lovely. Friendly service! Will definitely use again. Thank you Helen and Steve ? x"
Lauren Jade
I can not praise Itís Funtime enough!! The kids absolutely loved the bouncy castle and slide!! They called to check with me in the morning before the party which gave me piece of mind and the whole service was just amazing! I will 1000% be using them again!! Thank you so much!
Back To All Standard Bouncy Castles
Balloons Tots Castle
Introducing our lovely, balloons decorated bouncy castle for hire in Peterborough, Bourne and beyond. This is a fairly small bouncy castle and is great for fitting in tight gardens and small halls. It can handle children up to age 8 and is a great budget conscious option for any party or gathering. If you are working with limited space, please do double check the bouncy castle dimensions including height to confirm it will fit in your intended location.
Dimensions
12ft X 12ft X 8.5ft
3.7m X 3.7m X 2.6m
Suitable for under 8's
Why not add this beautiful Small Balloons Bouncy Castle to one of our amazing party packages or soft play parties to make a party to remember?
For your convenience, we are now pleased to offer professionally made party bags and sweet cones from only £1 each!
Should you wish to book our beautiful Small Balloons Bouncy Castle, you can do so online 24/7 or:
Call us on: 01778 570394
Mobile / text: 07592 373310
Email us: funtime.bourne@gmail.com
Like us on Facebook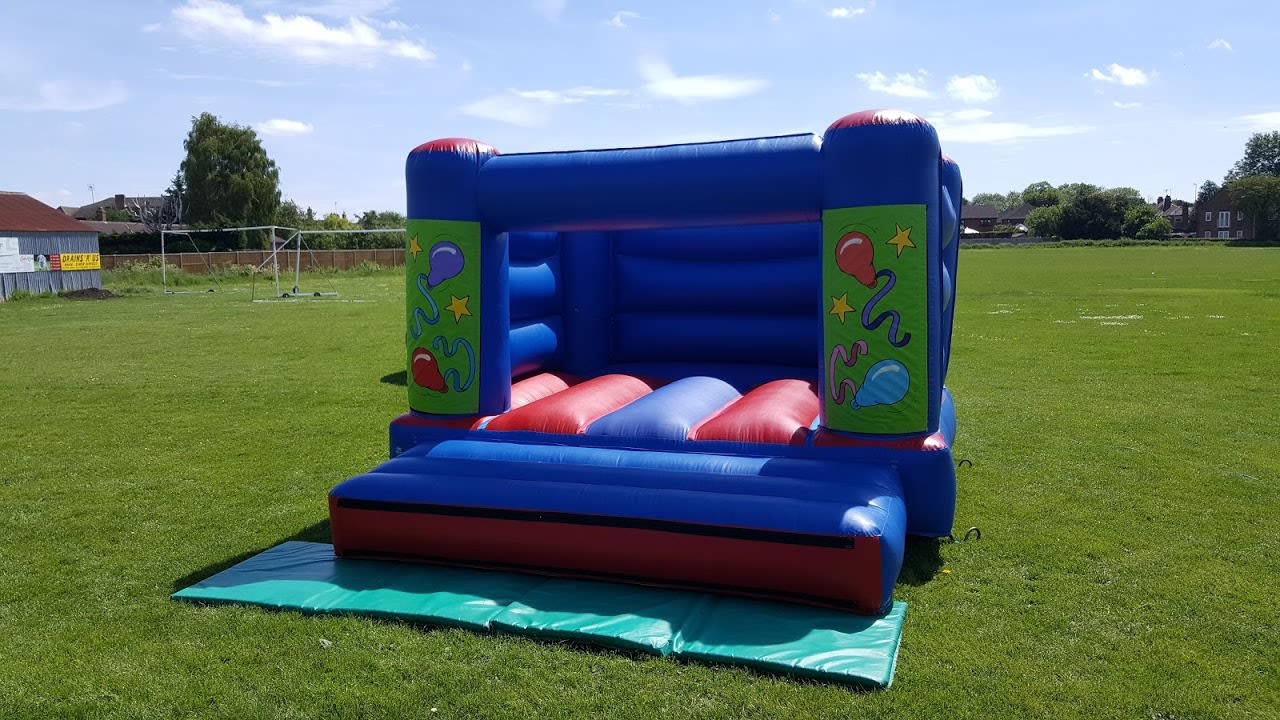 TOTS BALLOONS CASTLE